Wave North Coast Championship
Come to the Wave North Coast Championships in Conjunction with I-LYA Bay Week Regatta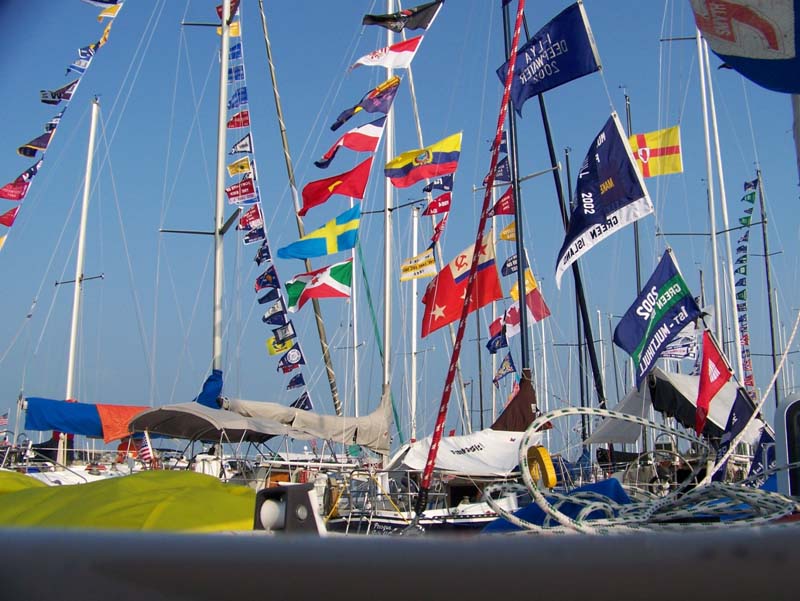 The Wave North Coast Championship is being held in conjuntion with the I-LYA Bay Week Regatta. This is a regatta that is steeped in tradition and has been the largest fresh-water regatta in the world since the turn of the last century.., not 2000. Yes, the regatta is well over 115 years + in age.
For years and years racing burgees have been the awards for sailing excellence, and you can see a lot of excellence shown above.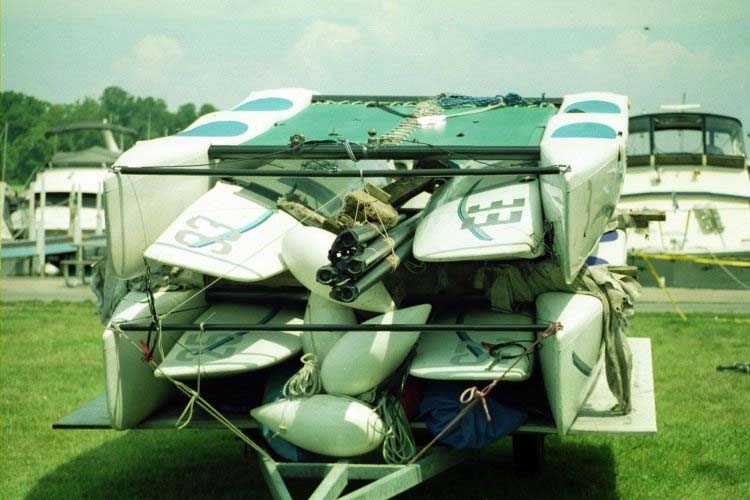 There are several ferries serving the island, but only Miller Ferry will take cars, trailers, people and whatever. The leave from the tip of Catawba Island. Just take Rte 53 North off of the Rte 2 Freeway and be sure to stop at the end.
The Jet Express from Port Clinton only takes people and bikes.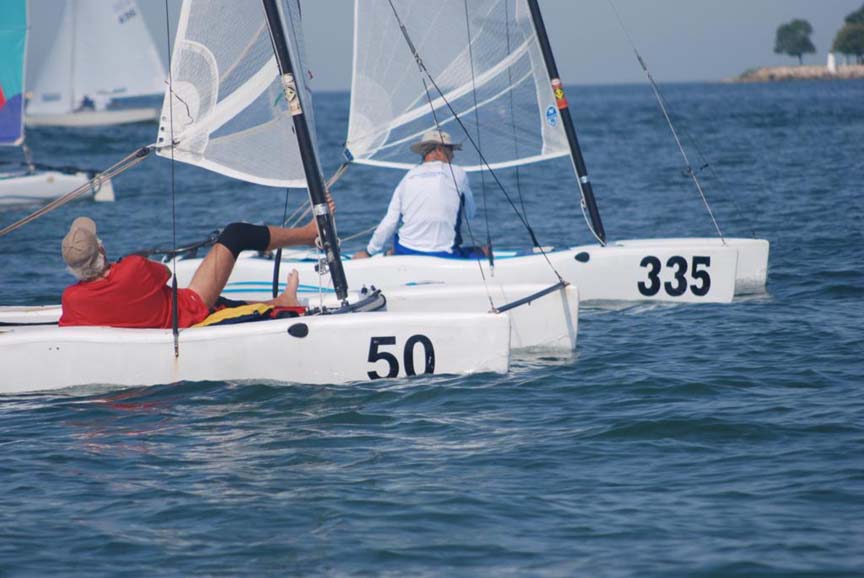 Rick White (50) and Jim Glanden (335) battle it out in waters of Lake Erie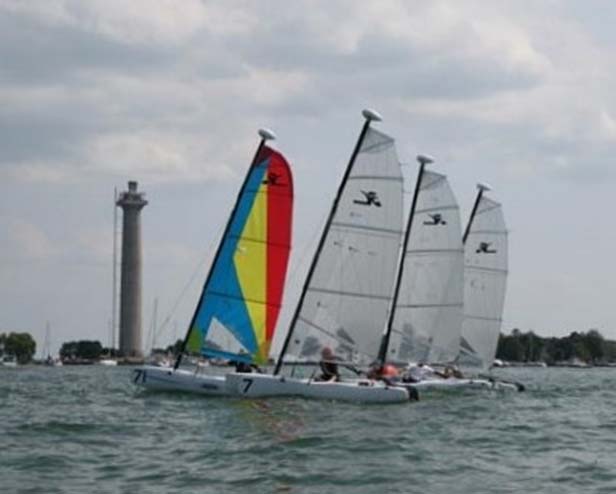 Waves racing in the harbor in front of the Perry Monument. Perry's Victory and International War Memorial commemorates the Battle of Lake Erie, near Ohio's South Bass Island, in which Commodore Oliver Hazard Perry led a fleet to victory in one of the most significant naval battles to occur in the War of 1812. The memorial also celebrates the lasting peace between Britain, Canada, and the United States that followed the war.
A 352 foot (107 m) monument — the world's most massive Doric column — was constructed in Put-in-Bay, Ohio by a multi-state commission from 1912 to 1915 "to inculcate the lessons of international peace by arbitration and disarmament." Beneath the stone floor of the monument lie the remains of three American officers and three British officers. It is among the tallest monuments in the United States (the Gateway Arch, San Jacinto Monument, and the Washington Monument are taller). Although substantially completed in 1915, funding problems prevented the proper completion of a fully realized memorial complex.[2] In 1919 the federal government assumed control of the monument and provided additional funding. The official dedication was celebrated on July 31, 1931. In 2002, 2.4 million dollars was spent on a new visitor center. The memorial is visited by 200,000 people each year.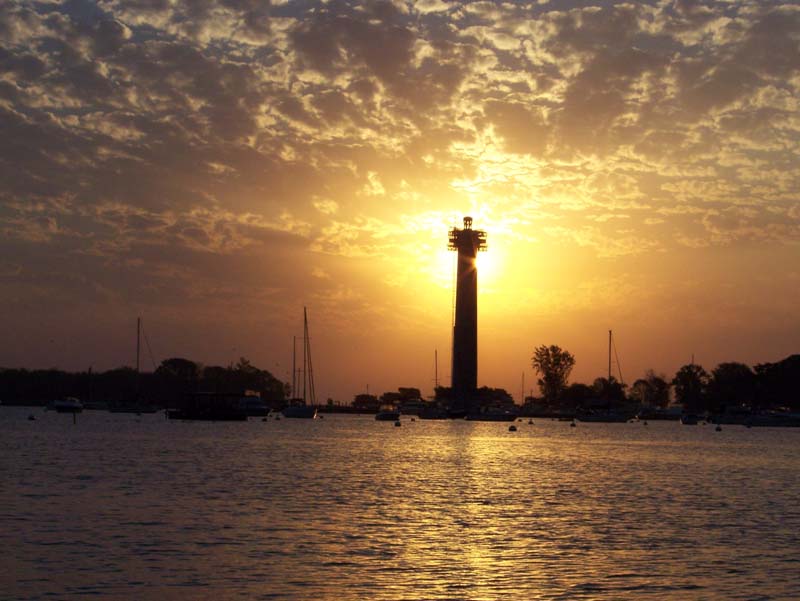 Catching the sunrise behind the monument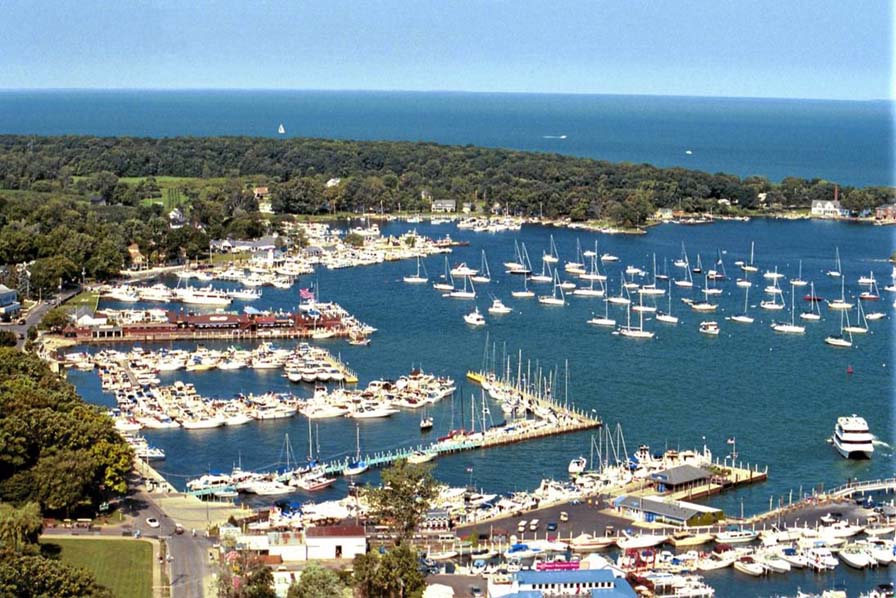 And what a view of the harbor during the Bay Week Regatta. On clear days you can see mainland Canada, Michigan, Ohio, and it is a great view of all the awesome western Lake Erie Island Chains.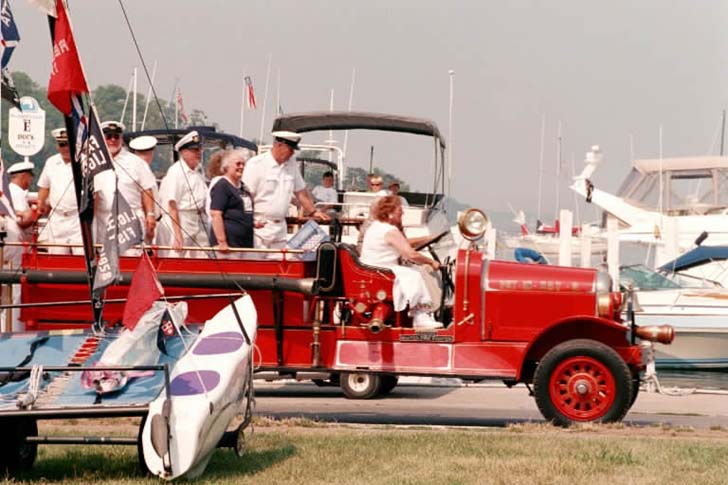 This is definitely an tourist's island paradise. While some islands have "hooks" such as no cars and only horses, Put-in-Bay's HOOK is antique cars. An antique fire truck hauls all the I-LYA Officers and Ladies to a celebration.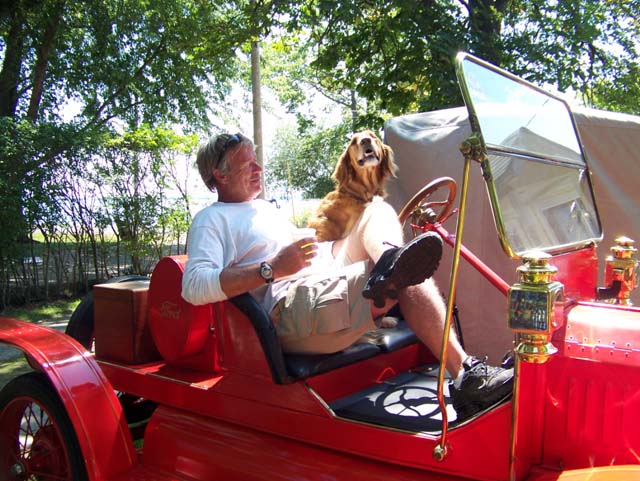 The car above is Rick White's 1908 Model T Ford Speedster, adding to the Antique Car Mystique of the Island. There is a weekly Antique Car Parade every Sunday on the island, with as many as 104 cars in it.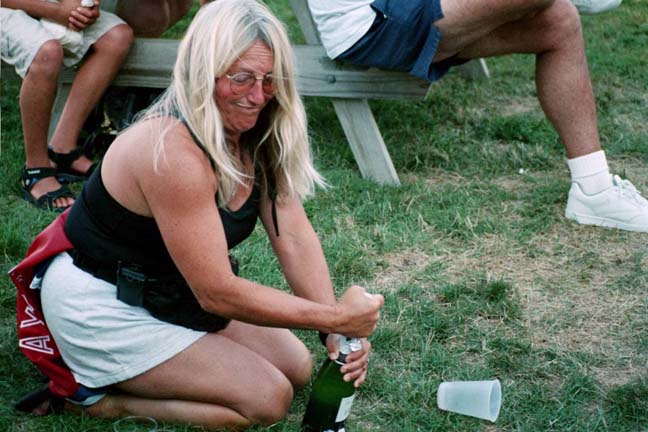 Debbie Schaefer prepares for the Awards Party, struggling with the a champagne bottle top. Champagne is straight from Hineman's Winery on the Island.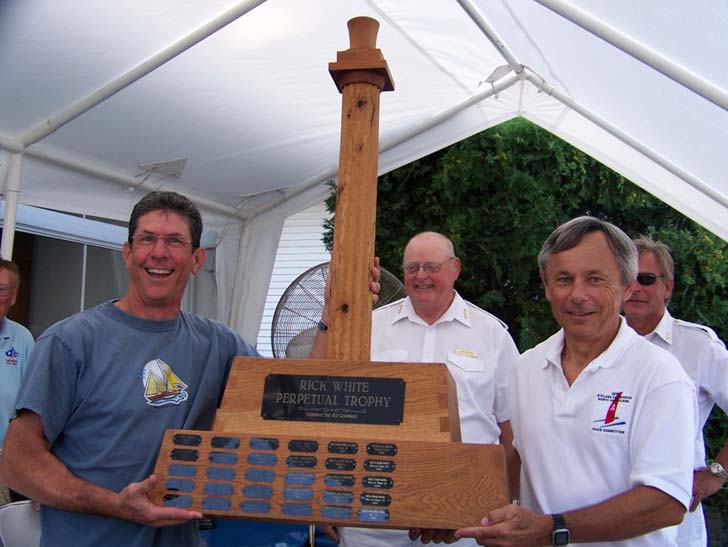 This hand-made replica of Perrys Monument is awarded annually to the first to finish of the Sandusky Steeplechase -- the 21-mile feeder race to the Bay.

This was a sand-blasted wood piece named after Bill Wells and is awarded to the winner on handicap for the Sandusky Steeplechase. Both awardds are presented at the Rum Party on Friday Evening.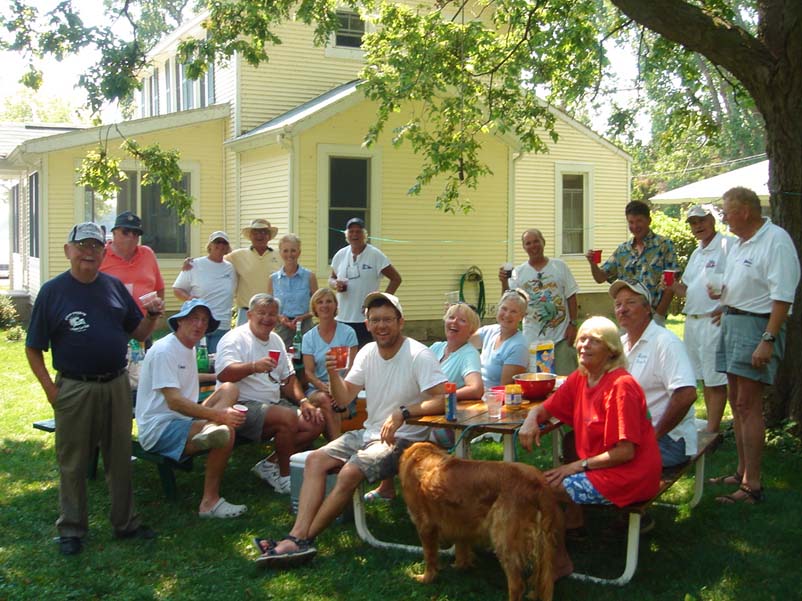 As if there are not enough parties, all the One-Design Sailors gather at Borman's Cottages for a Wine and Cheese Party after the awards.
And anyone who attends must stay for Jack Woehrle's Middle Bass Challenge on Monday.., a sort of laid-back and really fun affair.
Note from Rick White:
I sent this out to all the Wave Sailors I had on my email list. (If you know someone who want a copy, email me <rick@catsailor.com>:
Hi All,
With pleasure I heard the HCA Midwinters East had 18 Waves in attendance, which is awesome. Congratulations to the Ocean Springs Yacht Club for really putting on a great event.
Since Wave sailors are just so awesome, they all got together and wondered why they couldn't sail in the Wave North Coast Championships in conjunction with the I-LYA Bay Week Regatta. Here is the info I have on www.catsailor.com:
Aug 1 -- Sandusky Steeplechase, Feeder Race for Beach Cats from Sandusky to Put-in-Bay, OH, fun 21-mile race, summer.storm@cros.net
Aug 2-4 -- Wave North Coast Championship, and I-LYA Bay Week Regatta Open Cats, Put-in-Bay, OH, summer.storm@cros.net
         Jack Woehrle asked me if we would allow a separate class for the HCA Waves, as long as there were at least 5 boats making up the class, and have awards for them, as well as the other Waves racing that would not be class legal for HCA Waves. And we can start all the boats together.
My immediate response, of course, was, "Of Course!!!!"
The IWCA has never stopped any Wave from racing with us.

There now appears to be some pretty hot interest from some hot spots of fleets around the country considering coming to the "BAY" for the regatta. I am excited and charged to hear and have enclosed within this email all the great stuff I could find about the bay.

For starters, here is the NOR:
http://www.yachtscoring.com/event_documents/816/2013%20NOR%20130304.pdf
OnLine Registration would be highly appreciated. Jack says payment is not required at the time:
http://www.yachtscoring.com/event_registration_email.cfm
Jump on a Golf Cart (the way most visitors get around the island) and take a look at the island. Tip: when starting out, click the left arrow, which will take you to town. Then just drive around and check things out:
http://www.youtube.com/watch?v=RGWOnrPJ3Cc&annotation_id=annotation_420435&feature=iv
A few Pictures from the Past:
http://catsailor.com/Stories_Temp/BayWeekWavePromo.html
Here is Visitors Guide, with Housing Information. There are several ways to stay on the island. There is Camping at the PIBYC (you need to go their site at call the Manager), Hotels, Bed and Breakfasts, Rent a House or cottage (If there are several people -- we used to rent our house that slept 8, and there are quite a few of those on the island):
http://www.putinbay.com/

Tips:
Steeplechase:
I would not highly recommend the Steeplechase for a Wave. Woehrle and I have Hooters (Flat spinnakers) and could do it. It is a 21-mile trip from Sandusky SC to Put-in-Bay. If the wind were a reach and 15, it would be do-able, but you cannot always count on ideal winds like that.
Getting there:
There are several ferries, but the only one that takes cars, trailers, boats and people is Miller Ferry, at the tip of Catawba Island. Off Rt 2 Freeway, go north on State Rte 53. If you miss the ferry you will be in over your head. :-)
For people only the other main ferry is the Jet Express, a big 450 passenger Jet Boat that leaves from downtown Port Clinton -- fast. They will take bikes.
Normal Schedule
You really want to be there Thursday night. Here has been the schedule in the past:
Thursday
*Greet Steeplechase sailors, have a beer with them and here their lies about how well they did.
*Play tennis with Rick White, Dick Bliss, Betty Bliss, and a host of other poor players, then have a beer afterward.
*4PM -- Meet at the 4 O'Clock Club, which meets at the big round table in the front section of Hineman's Winery, where local shop and bar owners, town officials, and anyone important in PIB meet daily to drink Burgundy, Solve World Problems and Tell Lies.
*5PM -- go to Borman's Cottages for a beer bust and get your SIs packages.., sort of a Skippers Meeting
*Have Cocktails and Dinner at any of the awesome restaurants
Friday
*Breakfast at several great restaurants in town, and/or coffee at the PIBYC
*9AM -- Racing starts in the area of Rattlesnake Island and Middle Bass Island, with a number of back to back races.
*Arrive back at club for a cold beer and brat
*Tennis in the afternoon
4PM -- Another important meeting (only during the weekdays)
5PM -- Beer Bust and Daily Awards
6PM -- Rum Party and Deep Water Awards
Saturday
*Racing part is the same
*Tennis Part is the Same
*4PM -- Ladies Tea Party (caution the tea seems to make all the Ladies pretty silly acting)
*4PM -- Mens Beer Bust
*5PM -- Daily Awards
*6PM -- Pig Roast and Beer Bust
Sunday
Racing is the same
*ASAP -- Wine and Cheese Party at Bormans
*2PM -- Awards with Champagne
*2PM -- Antique Car Parade
*3PM -- Post Parade Party
IN OTHER WORDS IT IS A HELLUVA LOT OF FUN.