NAMSA North American Championships and Tradewinds Midwinter Open Cat National Championships
Tradeswind Has Awesome Winds for 2008
Hundreds of catamaran sailors from all over the North America and Europe converged on Islamorada and the Florida Keys for the NAMSA (North American Multihull Sailing Assn) North Americans & Tradewinds Midwinter Open Catamaran National Championships on January 19-20. The event was hosted by Founders Park Watersports. This is just an awesome venue for regattas – a huge staging area, a beautiful beach, always good winds and usually flat seas.
The winds were awesome for catamaran sailing on Saturday, with steady winds of around 20 mph and less than a 2-foot chop. These lightweight, powerful boats were flat flying around the course marks. For the faster boats the legs were 1 1/4 mile long with a triangle and two windward/leeward legs and an upwind finish. Four races were sailed on Saturday.

There was quite a bit of attrition as the day wore on – several boats broke things during capsizing. The classes started getting smaller and smaller for each race.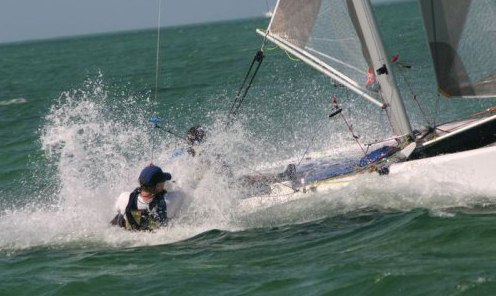 The Race Committee was in good shape for the event this year. They had five power boats on the water helping sailors. And some definitely needed help. One sailor reported that he saw a Hobie Wave sailing with no one on it. They were in the lead, but dropped their spinnaker and sailed back upwind to find the lost sailor. By that time other boats had located Stan Woodruff and placed him back on his boat.

Meanwhile Sharon Woodruff was rescuing a couple of other sailors that had somehow been left behind by their boat.
Things also got pretty hectic at the finish line. Just before the Hobie 16 Fleet was about to finish, the finish line mark blew away. Chip Short hurried to the spot to hoist his Missing Mark Flag, but his anchor would not hold. So, they kept position by using a transit and the RC was able to finish all the classes but the Hobie 16s – their race was abandoned.

Winds increased tremendously on Sunday, however. The RC was reading winds of 30 mph and gusty. Not many of the sailors objected when officials called off racing for the day and began the awards party.
Everyone went away happy – Mike Krantz of Zhik USA handed out nearly $1000 of sailing gear to various sailors. Zhik gear can be purchased at www.OnLineMarineStore.com. After the awards were over, OnLineMarineStore.com and Rick White's Sailing Seminars, made sure everyone got something – they handed out Gul Rash Guards and Training Video VHS tapes.
The Races
The Hobie 16 Fleet was the largest with 22 boats and lots of kids crewing. This class is really building in Florida and it is great to see so many youth sailors out there going at in heavy air. The first race was thrown out because the finish line went adrift. Mark Modderman/Christina Lewis won the second race, followed in by Randy and Janet Payne. Both of those teams did not fare so well in the next two races and dropped out of the awards.
Ken Hilk/Kristen King were always in the thick of things, taking a 3rd and 4th in the next two races, but finished strong with a bullet. Meanwhile, defending champion, Mike Siau and Sierra Manno had a 5th in the second race and took a bullet and second. But, this only put him in a tie for first with Ken Hilk and the tie was broken by the last race.
The winners in the Hobie 16 Silver Fleet were first: Brian Karr/Kevin Dollard, second: Chuck and Lucy Harnden, third: Steve Hilk/Erin LaPorta.
A beautiful perpetual is given to the winner of the largest class – the Carlton Tucker Memorial. This year it went to Ken Hilk and Kristen King.
The second largest fleet was the Nacra Inter20. Nigel Pitt was handed the helm by Jake Kohl and they proceeded to rattle off a second, two bullets and then the sail popped out of the mast and they did not finish the last race. They nevertheless won by one point by throwing out the DNF
Trey Brown and Alan Stewart just keep getting better and better. Their worst race was a 3rd place and complimented that with a bullet and two seconds. Had there been no throwout, they would have taken the title.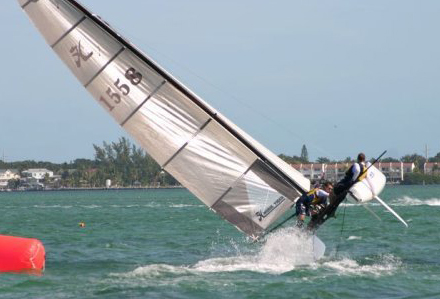 The Wave Class was the third largest and most would have loved to sailed on the Sunday. Dave White dominated the class and would have had all bullets, but in the first race went to the wrong leeward mark, sailing a much longer course than the rest of the fleet in the first race. He still managed a second place finish.
Ohioan, Ray Matuszak won the first race and finished it out with a 5-6-3 and edged out Mike Powers in tie breaker.
This was the F18 Midwinter Nationals and the fleet was loaded with talent. Mischa Heemskerk of the Netherlands teamed with Carrie Howe and took all bullets the first three races. However, they wanted to pace themselves with the I-20s, so started with them, thereby making him OCS for his class. They still won by using the OCS as a throwout.
Brian Lambert/Alex Efre-Perez duked it out all day with Dave Lennard and Mike Krantz and both teams finished with 6 points each, but the tie went to the winner of the last race – Lambert/Alex Efre-Perez.
This was also the F16 Midwinter Nationals. Tim Bohan imported a ringer from Switzerland, Andi Lutz. They took three bullets and a deuce and won first place in the class. Terry Back and Tina Pastoor took second only two points back.
Oddly enough there was only one Portsmouth Fleet.., all low numbers (fast boats). Leandro Spina and Jamie Livingston flew their Tornado into three first places and a second to win handily. Although Mark Baker and Rainer Bindig were nipping at their heels on their Nacra 5.5 Sloop.
Dennis Green went through two sails and three DNFs, but finally finished a race to take 3rd place. Everyone else in the fleet broke something and dropped out. Talk about persistance.

Sponsoring the event was OnLineMarineStore.com, Founders Park Watersports, Catamaran Sailor Magazine, SailingSeminars.com, Calvert Sails and Zhik Sailing Gear.
Next year the event will again be scheduled for the Martin Luther King Weekend in January 2009. For information contact Mary Wells 305-451-3287 or mary@catsailor.com
Don't miss this awesome story of rescuing a N20 by John McKnight who was on the boat with Warren Green: Click Here for the Link to the Cabb Forum!
For more awesome pictures by Craig Van Eaton and Eric Arbogast, Click Here!
For full Results, Click Here!