Tradewinds Midwinter Open Cat National Championships
The Tradewinds Midwinter Open Catamaran National Championships were hosted by Founders Park Watersports at Founders Park in Islamorada over the Martin Luther King Weekend. Nearly sixty high-speed, high-tech multihulls sped around the courses on the Bayside of the Islands in almost ideal conditions.
The weather was very cooperative despite some nasty forecasts. While the days were cool there was good 15 mph winds on Saturday and winds close to 10 on Sunday. As usual, it was perfect Florida Keys sailing.
Sponsors of the regatta were Catamaran Sailor Magazine, catsailor.com, OnLineMarineStore.com, SailingSeminars.com, Zhik Sailing Gear, Founders Park Watersports and Calvert Sails.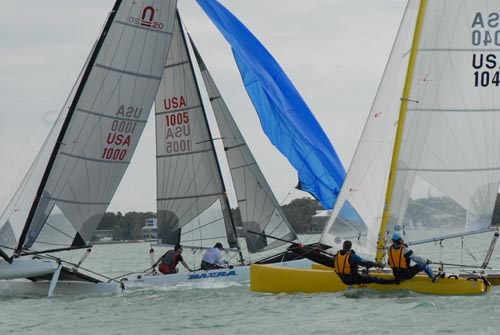 The Races
The Nacra 20 Class was the largest and so the leader of the class became the third winner of the Carlton Tucker Memorial Trophy. In this case it was Kirk Newkirk and Glen Holmes. They had some really great starts in this very competitive fleet and were almost always in the hunt for the lead. Although, they only took one bullet in the seven races sailed, but were consistently in the top two or three boats.
Trey Brown and Bailey White got two bullets, but had three finishes that were not so hot, putting his team in second place three points behind the Master. Mark Smith started off rather poorly but made a great comeback to nip out Steve Lohmayer for 3rd spot.
The second largest class was the Hobie Waves. Having just won the Wave Nationals a month ago, Leah White continued here winning ways by taking three bullets, two seconds and third to win by three point over Stan Woodruff. Leah's husband, Dave White, had a halyard failure early on in the regatta and had to throw out that race. He still finished just two points behind Woodruff in third spot.
The third largest fleet was the Hobie 16 Class. Tom Korzeniewski and Erica Tackswell from Upstate New York and his crew were extremely solid and took the victory by 2 point over Dan Borg/Heatherington. Korz managed to pull off a spectacular port tack start to the ooohs and aaaahs of the on looking spectator boats. Last year's winner, Ken Hilk teamed up with Susan Korzeniewski and finished in third spot.
This was the F18 Class' Midwinter Nationals and the competition was tough. But Robbie Daniel and Enrique Rodriguez had a reunion from their Tornado days and pretty much had their way with the class, winning all but two of the races. One of which was the last race where they sailed an extra windward-leeward leg not required.
Mike Easton and Tripp Burd were hanging tight with the leader and finished only two points behind them for second spot. Mike Krantz and Dave Lennard took third spot.
The F16 Class also were having their Midwinter Nationals. This was not a snap for Matt and Gina MacDonald this time. They had two DNSes on the first day. Two other two races were aces, but that second DNS had to be eaten by them. They won two of the three races on Sunday to narrowly escape with the victory by a mere point over Andi Lutz and Tim Bohan. Ben Moon and Lindsay Cross also suffered from two DNS scores, but held on to the 3rd place spot.
Nigel Pitt opened up the A-Cat series with a solid bullet ahead of two-time Olympian, Randy Smyth. When crossing the finish line he declared loudly, "OK, I am going home now." But from there on it was all Smyth, rattling off 6 bullets to take a solid first overall. Bob Webbon hung in there was mostly 2nd place finishes for second overall, while Pitt slipped to 3rd place overall.
The Open Class consisted of only three boats – one Hobie 17 and two Sharks. Kelly Davis of Key Largo had it made on the first day. He was the only one on the starting line and of course took four aces for the day.
The Sharks did show up on Sunday and showed the way. Jerry Pattenaude and John Sherry took three bullets, but that was not nearly enough to overcome the no-show on the first day. They settled for 2nd place overall. Ken Putney and Sean McKnight were 3rd place.
Next Year
This regatta is always scheduled for Martin Luther King Weekend each January and welcomes fleets to make this their Midwinter Championships as well. It is a perfect venue with a vast, beautiful beach with lots of rigging room. The sailing is awesome – the waters are crystal clear and the wind usually blows around 15 mph with flat seas. This is perfect catamaran sailing.
Next year this will be a three-day regatta, with sailing on Friday, Saturday and Sunday. For those that cannot make it on Friday, that will be no problem. The scoring will be done the same as they do for the Spring Fever Regatta in Lake Hartwell – if you only race Saturday and Sunday, your average score will be used to fill in the races on Friday.
There has always been some concern that it is such a long drive from most place for a two-day regatta. Now, there will no longer be that excuse. So, start planning now for 2010.
Pictures below by Beth Langfeld:
For More of Beth's Pictures, Click Here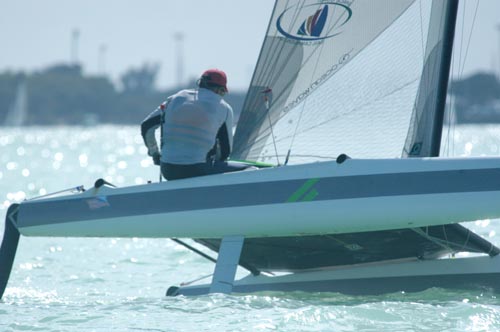 Mark Herendeen on an A-Cat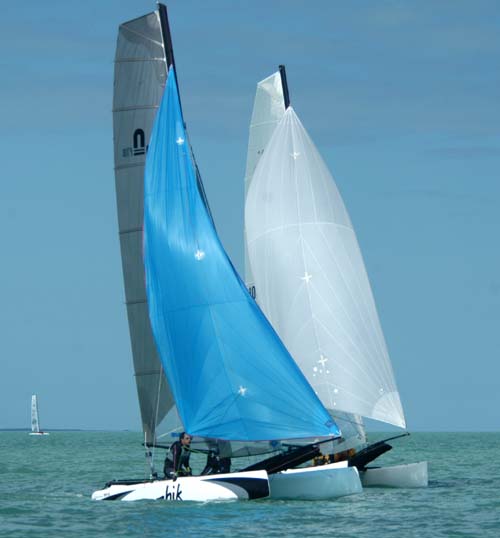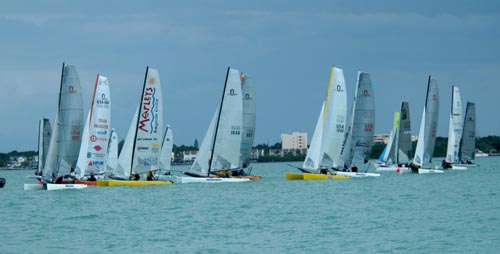 Nacra 20 start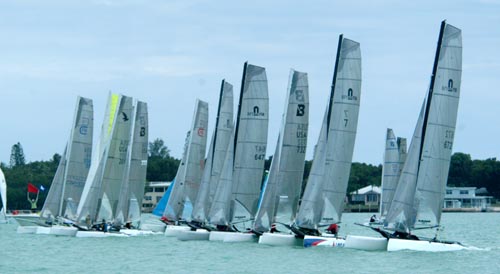 F18 start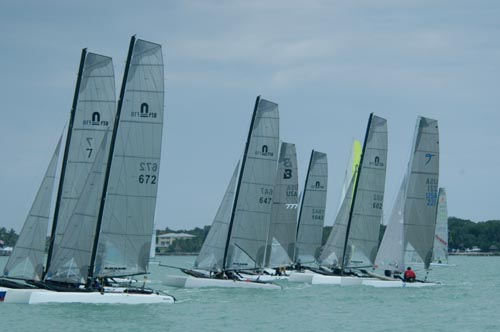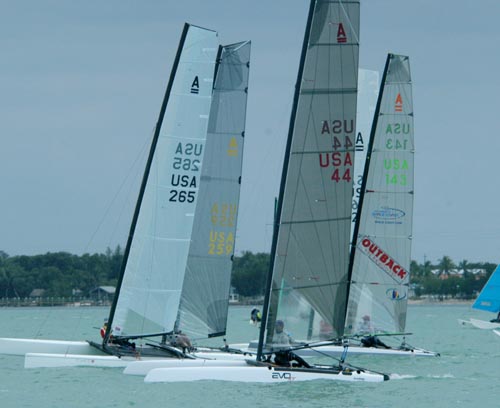 A-Cat Start

Mark Herendeen (Outback) and Nigel Pitt (Zhik)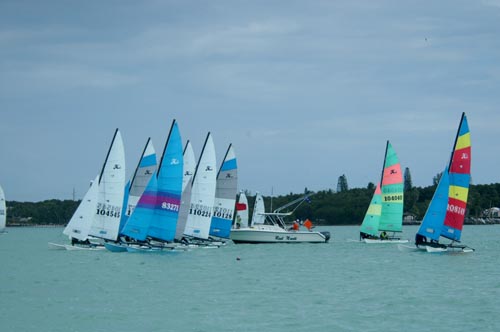 H16 start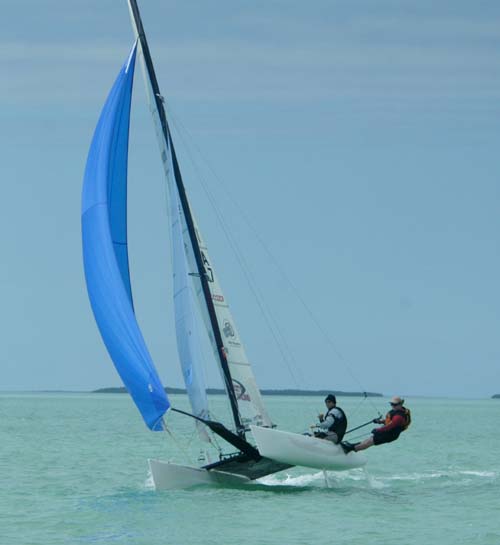 Photos below by Sean McKnight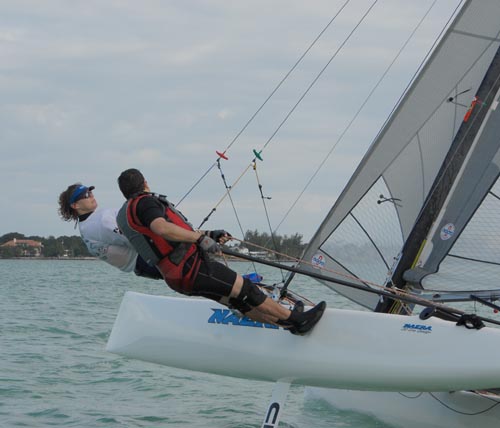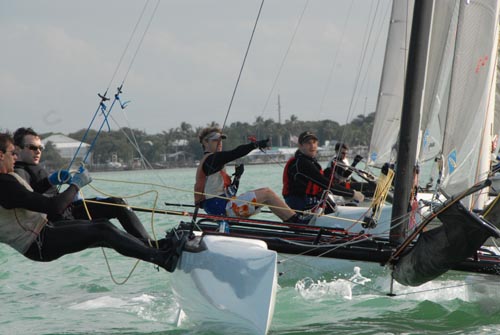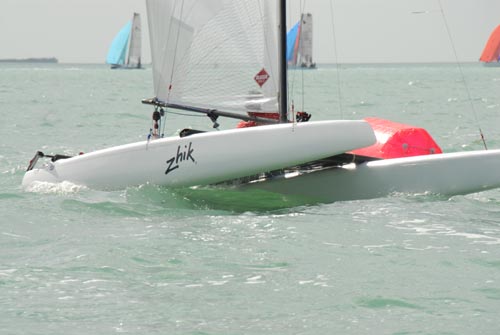 Nigel Pitt roll-tacking his A-Cat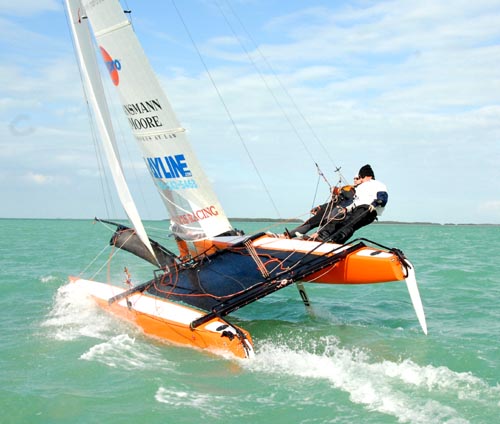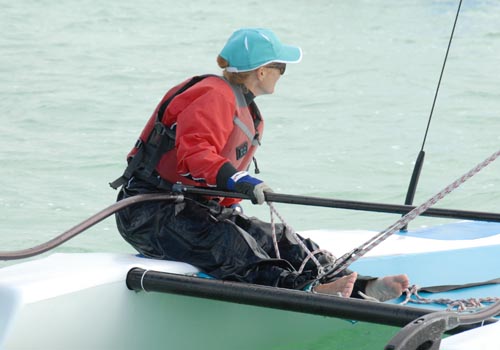 Leah White, winner of the Hobie Wave Class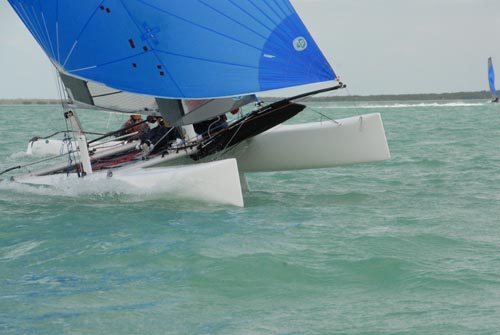 Dave White, 3rd place finisher in the Wave Class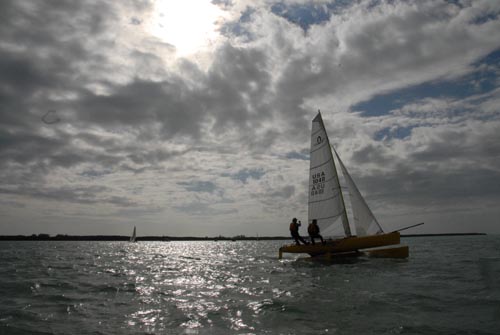 A little artistic touch while we are at it.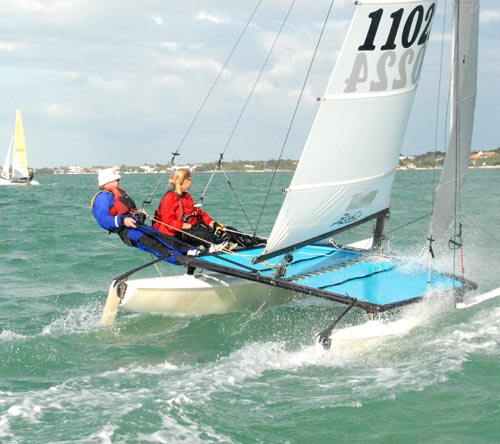 Kenny Pierce driving the Hobie 16
For More Sean McKnight Pix, Click Here!
Even More of Sean McKnight Pix, Click Here!