Florida Sailors Take Top Three Spots in Steeplechase
The 26th Annual Key Largo Steeplechase was held in Key Largo December 11-12 with 17 teams of catamaran sailboats from around North America competing. What is normally an action-packed, hull-flying contest, the weekend was cursed with light air. On the first day some of the later boats were on the water for over fourteen hours.
The race is a 110-mile trek around the islands with the first leg usually a relative drag race down the ocean side of the islands. The second leg up the Florida Bay side requires a lot of navigation skills and water reading for the sailors.
Brett Moss and John Casey of Ft. Lauderdale were very consistent on their Marstrom 20 and took top honors both on first to finish and on handicap. After 110-miles of grueling sailing in winds ranging f rom 2 to 10 mph, the managed to keep it going the whole time.
Past winners, Eric and Bill Roberts of Palm Beach and sailing an ARC22, were always withing firing range, but could not get past that leading team. Defending champions, Mike Phillips and Kenny Pierce of Miami, also sailing a Marstrom 20, had to settle for 3rd place overall, just 10 minutes behind the Roberts.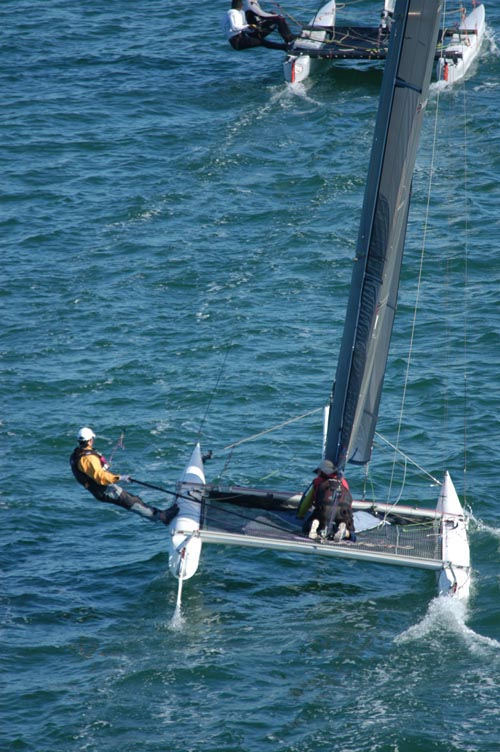 Eric and Bill Roberts closely following Brett Moss and John Casey

The top Nacra20 was Tripp Burd and Dalton Tebo, finishing 5th place overall, and the best F18 finisher was Jim Zellmer and Chris Stocke in 6th place overall. There was a Hobie 16, piloted by Steven Craemer and Jason Aranha, who followed the big fast boats around, but corrected out at 8th place overall.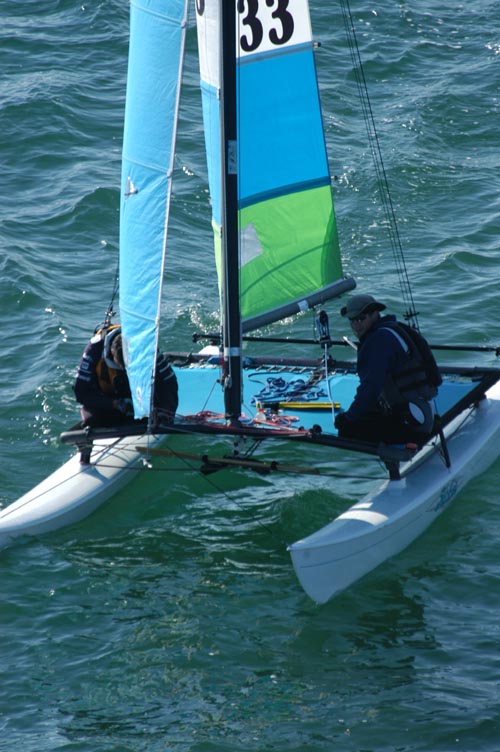 Steven Craemer and Jason Aranha on a Hobie managed to make 8th place overall

This event is normally a paradise for a catamaran sailor. The teams until last year had to work hard to be on the starting line on time – they had a draw bridge that opened on the half hour. The start has always been scheduled for 9AM. But, then they had to navigate a mangrove creek to get to the open water of Barnes Sound, where the starting line is set.
But, despite a new 65' bridge being built so all they had to do was get to the start line (no bascule bridge to contend with), but for the third year in a row, and a first for this race, a postponement flag had to be flown.
The races finally got underway at 9:30 with light air on the nose to the first destination – the Card Sound Bridge, another 65-footer, and then another beat to Angelfish Creek. The creek is the way to get to the ocean side of the string of islands.
Many years ago Angelfish Creek was a bit of a challenge. Usually you were fighting the current and sailing upwind. The secret was to stay close to the mangroves on each side, thus staying out of the current. Often you could even catch an eddy to help go upstream.
But, since Hurricane Andrew, which devastated south Florida, most of the big trees were leveled and have never regained their height. The fleet still has to navigate the tidal current, but there is usually more wind in the sails to deal with it.
Once through the creek it is normally a drag race downwind to Anne's Beach some 60 miles away. This year is was just a drag.
The forecast for Sunday was for lots of wind. Well, it did not arrive until the awards time. Very slow times were recorded for this usually fast event. The worst time was by Dick and Linda Macdonald sailing an old Narca 5.8 sloop – they were on the water for over twenty one hours.., but the still made it in time for awards and received their bottles of champagne.
years ago when a group of CABB (Catamaran Assn. Of Biscayne Bay) members decided to try a race around Key Largo – no entry, no frills, no award. The total distance was 110 miles -- the course starts at Jewfish Creek and goes clockwise around the Keys, through Angelfish Creek, down Hawk Channel, through Channel 5 Bridge and back to Blackwater Sound.
The first race was won by Rick White, Key Largo author and Sailing Hall of Famer. Meanwhile, one of the ladies on ground crew had meandered into the woods and found an old dilapidated lawn chair. As a joke she presented this old lawn chair to White at the finish. After sailing all that distance, White didn't take it as a joke. He rather proclaimed, "Great! This 'Olde Lawn Chair' will be the Annual Perpetual Trophy for the race." And at that finish many years ago, all the finishers bought themselves a bottle of champagne and toasted each other that they had completed the course. And so now each finisher is also awarded a bottle of champagne.
The race is always the second weekend of December yearly, with next years dates being December 10-11, 2011. For more information see www.Catsailor.com
The annual race was sponsored by Catamaran Sailor Magazine, www.catsailor.com, Rick White's Sailing Seminars, www.SailingSeminars.com, and www.OnLineMarineStore.com. The headquarters for the race, as well as the start and finish was at the Gilberts Resort in Key Largo.
A big thanks to Craig Van Eaton who supplied the tracking of many of the boats. It was really nice to see the progress of the different boats. The program seems to have a lot of really nice bells and whistles. Hope we can get more teams to use them next year. I do know they are going to be mandatory for the Tybee 500 this year.
After this story was put on the site, a post was placed on our Open Forum by "Waterbug" nee Jay Roth that really gets to the heart of this race:
Part of the charm of this race is you never know what to expect, and for me personally a race where you spend a "few" extra hours on the water beats a race where they have to call off the search for bodies.
Conditions aside from light winds were absolutely perfect. Not a cloud in the sky, temperatures (water and air) were certainly comfortable, almost non-existent chop, and clear waters. Yes, I could have dealt with a little less paddling on day 2, but as Rick's fond of saying "that's racing".
Every race has its story, and this one is no different. Highlights included the infamous mangrove cuts where you really couldn't figure out which direction the wind was coming from except "wrong", holding your breath as you ghost over shallows hoping that you "chose wisely" and won't have to get out and slog though the knee deep sand/mud, always second guessing your route choices, the list goes on.
Added to this list were a few firsts for me at this event:
- trapped out reaching at close to 19 kts in shallow water...at night... with lobster pots (painted black, of course)...with daggarboards down...
- NOT having to paddle through Angelfish creek, despite an incoming tide, thanks to a really flat Galser spin
- spending more than an hour to get to Card Sound bridge
- sailing an F18
- paddling for more than an hour
- NOT having to slog the boat 1/4 mile through waist deep mud to pull the boat across the finish line
- (sadly,) missing Steve's famous party
- and most importantly, beating Ding

oh, and thanks to team "Curb Feelers" for helping us identify the shallow areas on that night reach. You guys can be cool for a bunch of PUNKS!
Pictures and Results Below: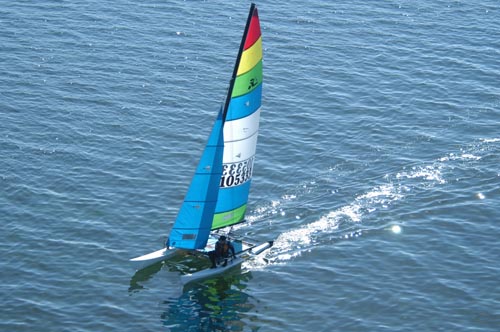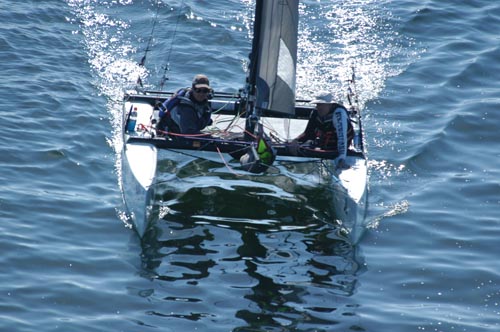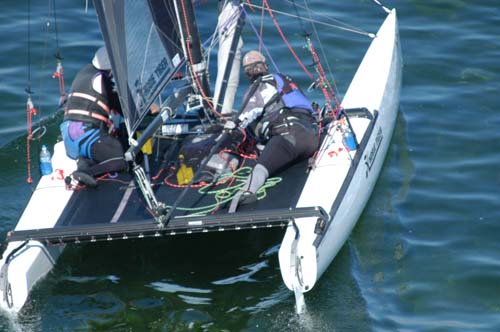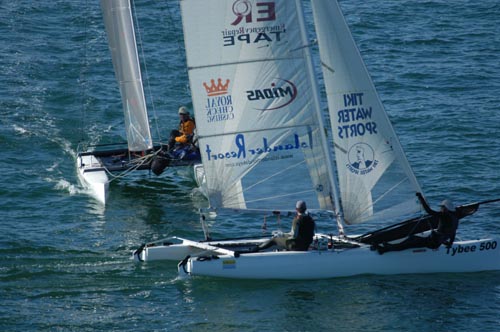 Tripp Burd and Dalton Tebo Have a slight edge on Kirk Newkirk and Glen Holmes heading for the Channel Five Bridge.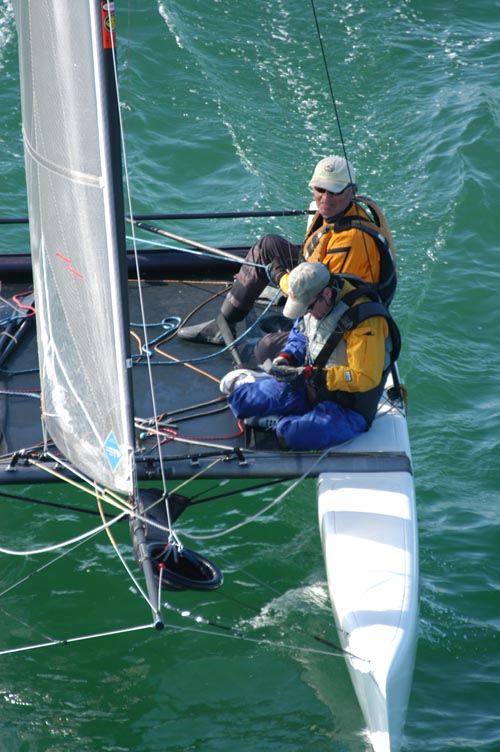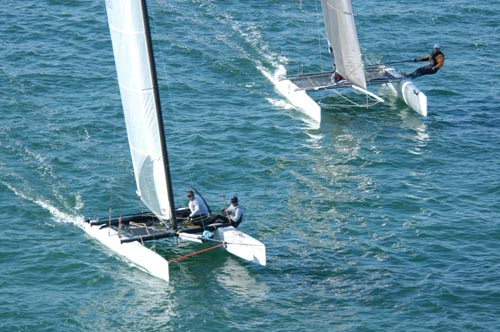 Brett Moss and John Casey on a Marstrom 20 (left), is being hounded by Eric and Bill Roberts on an ARC22 (right)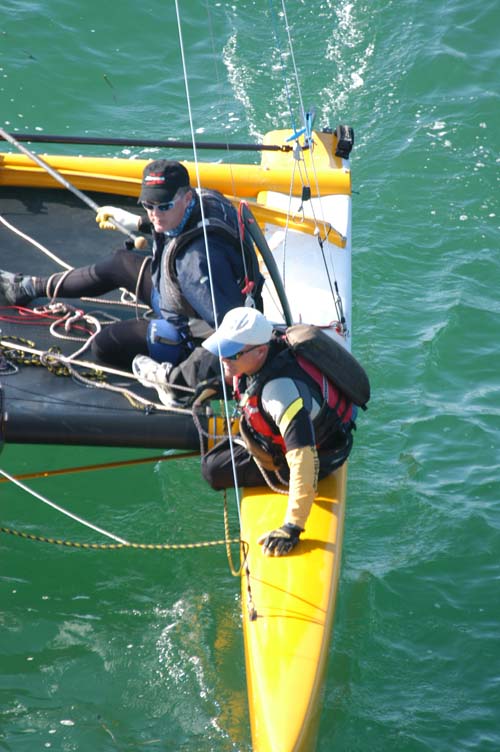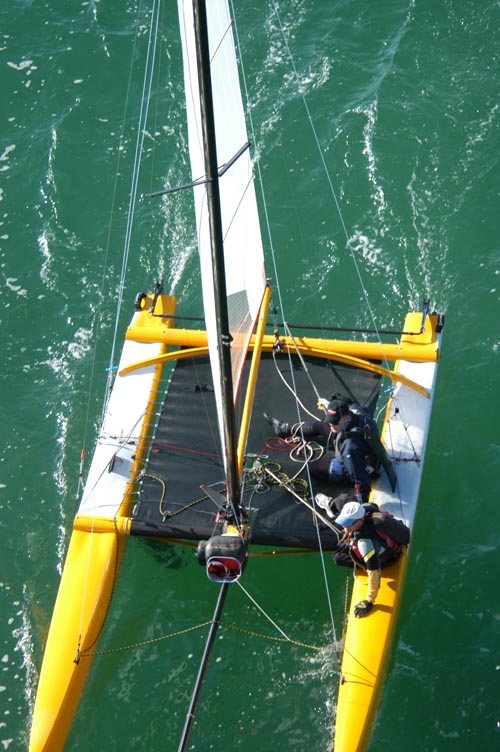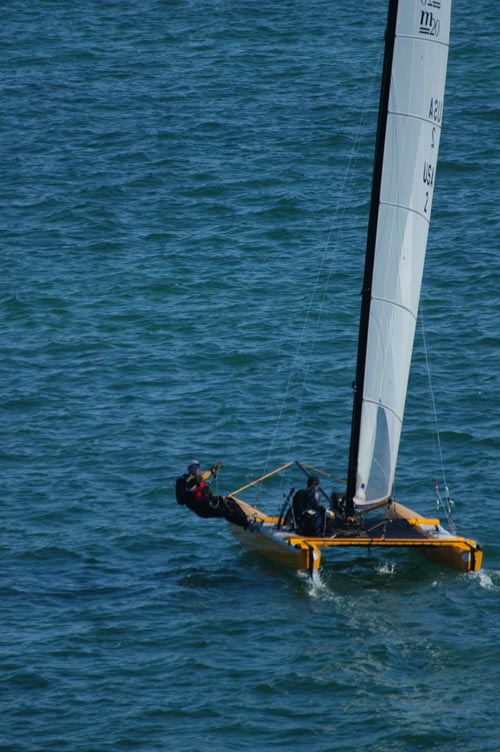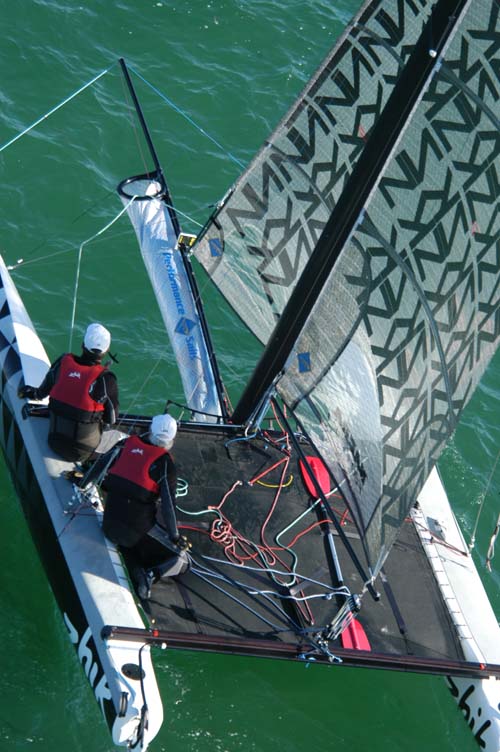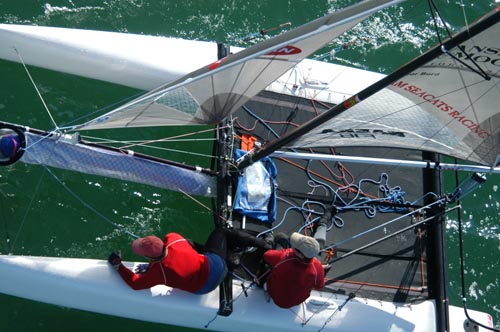 And check out the great video by Joy Sloan
http://www.youtube.com/watch?v=vqHK6QaaS0o
Here are the Results:
Catamaran Sailor Magazine
2010 26th Annual Key Largo Steeplechase
Preliminary Results
Sailed: 3 Discards: 2 Ratings: USPN
| Rank | Class | Sail No | Helm | Crew | USPN | Leg One | Leg Two | Overall | Nett |
| --- | --- | --- | --- | --- | --- | --- | --- | --- | --- |
| | | | | | | | | | |
| 1 | Marstrom 20 | USA 1 | Bret Moss | John Casey | 58.0 | 1.0 | 1.0 | 1.0 | 1.0 |
| 2 | ARC22 | 2230 | Eric Roberts | Bill Roberts | 57.0 | 3.0 | 2.0 | 2.0 | 2.0 |
| 3 | Marstrom 20 | USA2 | Mike Phillips | Kenny Pierce | 58.0 | 2.0 | 3.0 | 3.0 | 3.0 |
| 4 | NacraIntl20C | 11 | MIke Krantz | David Lennard | 57.0 | 4.0 | 4.0 | 4.0 | 4.0 |
| 5 | N20 | 204 | Tripp Burd | Dalton Tebo | 59.3 | 6.0 | 5.0 | 5.0 | 5.0 |
| 6 | F18 | 605 | Jim Zellmer | Chris Stocke | 62.4 | 5.0 | 9.0 | 6.0 | 6.0 |
| 7 | N20 | 1324 | KIrk Newkirk | Glen Holmes | 59.3 | 7.0 | 7.0 | 7.0 | 7.0 |
| 8 | H16 | 105333 | Steven Craemer | Jason Aranha | 76 | 10.0 | 6.0 | 8.0 | 8.0 |
| 9 | F18 | 676 | Karl Langefeld | Jay Roth | 62.4 | 9.0 | 10.0 | 9.0 | 9.0 |
| 10 | F18 | 672 | Dave Ingram | Pete Cullum | 62.4 | 11.0 | 8.0 | 10.0 | 10.0 |
| 11 | N20 | 110 | Mark Smith | Joe Pocreva | 59.3 | 12.0 | 12.0 | 11.0 | 11.0 |
| 12 | F18 | 122 | Cosimo Malesci | Pietro Fabiani | 62.4 | 13.0 | 13.0 | 12.0 | 12.0 |
| 13 | F18HT | USA 14 | Jan Majer | Ian Sloan | 60.0 | 16.0 | 11.0 | 13.0 | 13.0 |
| 14 | F18 | 2572 | Scott Rathburn | Bill Dolan | 62.4 | 14.0 | 14.0 | 14.0 | 14.0 |
| 15 | N5.8 | 120 | Dick Macdonald | Linda Macdonald | 66.6 | 15.0 | 15.0 | 15.0 | 15.0 |
| 16 | F18 | 1025 | Todd Riccardi | Eric Witte | 62.4 | 8.0 | DNF | DNF | 18.0 |
| 17 | F18 | 147 | Greg Vadasdi | Marc Lewenstein | 62.4 | 17.0 | DNF | DNF | 18.0 |
Leg One
| Rank | Class | Sail No | Helm | Crew | USPN | Start | Finish | Elapsed | Corrected | Nett |
| --- | --- | --- | --- | --- | --- | --- | --- | --- | --- | --- |
| 1 | Marstrom 20 | USA 1 | Bret Moss | John Casey | 58.0 | 9:30:00 | 17:30:55 | 8:00:55 | 13:49:10 | 1.0 |
| 2 | Marstrom 20 | USA2 | Mike Phillips | Kenny Pierce | 58.0 | 9:30:00 | 17:34:19 | 8:04:19 | 13:55:02 | 2.0 |
| 3 | ARC22 | 2230 | Eric Roberts | Bill Roberts | 57.0 | 9:30:00 | 17:36:44 | 8:06:44 | 14:13:55 | 3.0 |
| 4 | NacraIntl20C | 11 | MIke Krantz | David Lennard | 57.0 | 9:30:00 | 18:08:10 | 8:38:10 | 15:09:04 | 4.0 |
| 5 | F18 | 605 | Jim Zellmer | Chris Stocke | 62.4 | 9:30:00 | 19:23:50 | 9:53:50 | 15:51:39 | 5.0 |
| 6 | N20 | 204 | Tripp Burd | Dalton Tebo | 59.3 | 9:30:00 | 18:57:23 | 9:27:23 | 15:56:48 | 6.0 |
| 7 | N20 | 1324 | KIrk Newkirk | Glen Holmes | 59.3 | 9:30:00 | 18:59:59 | 9:29:59 | 16:01:11 | 7.0 |
| 8 | F18 | 1025 | Todd Riccardi | Eric Witte | 62.4 | 9:30:00 | 19:39:01 | 10:09:01 | 16:15:59 | 8.0 |
| 9 | F18 | 676 | Karl Langefeld | Jay Roth | 62.4 | 9:30:00 | 19:41:40 | 10:11:40 | 16:20:14 | 9.0 |
| 10 | H16 | 105333 | Steven Craemer | Jason Aranha | 76 | 9:30:00 | 22.06.00 | 12:36:00 | 16:34:44 | 10.0 |
| 11 | F18 | 672 | Dave Ingram | Pete Cullum | 62.4 | 9:30:00 | 19:52:10 | 10:22:10 | 16:37:04 | 11.0 |
| 12 | N20 | 110 | Mark Smith | Joe Pocreva | 59.3 | 9:30:00 | 19:34:50 | 10:04:50 | 16:59:57 | 12.0 |
| 13 | F18 | 122 | Cosimo Malesci | Pietro Fabiani | 62.4 | 9:30:00 | 20:31:40 | 11:01:40 | 17:40:22 | 13.0 |
| 14 | F18 | 2572 | Scott Rathburn | Bill Dolan | 62.4 | 9:30:00 | 21:23:00 | 11:53:00 | 19:02:38 | 14.0 |
| 15 | N5.8 | 120 | Dick Macdonald | Linda Macdonald | 66.6 | 09.30.00 | 22.16.00 | 12.46.00 | 19.10.09 | 15.0 |
| 16 | F18HT | USA 14 | Jan Majer | Ian Sloan | 60.0 | 9:30:00 | 21:15:00 | 11:45:00 | 19:35:00 | 16.0 |
| 17 | F18 | 147 | Greg Vadasdi | Marc Lewenstein | 62.4 | 9:30:00 | 22.55.00 | 13:25:00 | 21:30:04 | 17.0 |
Leg Two
| Rank | Class | Sail No | Helm | Crew | USPN | Start | Finish | Elapsed | Corrected | Nett |
| --- | --- | --- | --- | --- | --- | --- | --- | --- | --- | --- |
| 1 | Marstrom 20 | USA 1 | Bret Moss | John Casey | 58.0 | 9:00:00 | 14:18:05 | 5:18:05 | 9:08:25 | 1.0 |
| 2 | ARC22 | 2230 | Eric Roberts | Bill Roberts | 57.0 | 9:00:00 | 14:27:26 | 5:27:26 | 9:34:27 | 2.0 |
| 3 | Marstrom 20 | USA2 | Mike Phillips | Kenny Pierce | 58.0 | 9:00:00 | 14:50:16 | 5:50:16 | 10:03:54 | 3.0 |
| 4 | NacraIntl20C | 11 | MIke Krantz | David Lennard | 57.0 | 9:00:00 | 14:58:28 | 5:58:28 | 10:28:53 | 4.0 |
| 5 | N20 | 204 | Tripp Burd | Dalton Tebo | 59.3 | 9:00:00 | 15:14:37 | 6:14:37 | 10:31:44 | 5.0 |
| 6 | H16 | 105333 | Steven Craemer | Jason Aranha | 76 | 9:00:00 | 17:09:11 | 8:09:11 | 10:43:40 | 6.0 |
| 7 | N20 | 1324 | KIrk Newkirk | Glen Holmes | 59.3 | 9:00:00 | 15:25:20 | 6:25:20 | 10:49:48 | 7.0 |
| 8 | F18 | 672 | Dave Ingram | Pete Cullum | 62.4 | 9:00:00 | 15:46:48 | 6:46:48 | 10:51:55 | 8.0 |
| 9 | F18 | 605 | Jim Zellmer | Chris Stocke | 62.4 | 9:00:00 | 15:49:01 | 6:49:01 | 10:55:29 | 9.0 |
| 10 | F18 | 676 | Karl Langefeld | Jay Roth | 62.4 | 9:00:00 | 15:53:43 | 6:53:43 | 11:03:00 | 10.0 |
| 11 | F18HT | USA 14 | Jan Majer | Ian Sloan | 60.0 | 9:00:00 | 16:02:33 | 7:02:33 | 11:44:15 | 11.0 |
| 12 | N20 | 110 | Mark Smith | Joe Pocreva | 59.3 | 9:00:00 | 16:02:24 | 7:02:24 | 11:52:19 | 12.0 |
| 13 | F18 | 122 | Cosimo Malesci | Pietro Fabiani | 62.4 | 9:00:00 | 16:49:33 | 7:49:33 | 12:32:29 | 13.0 |
| 14 | F18 | 2572 | Scott Rathburn | Bill Dolan | 62.4 | 9:00:00 | 16:50:56 | 7:50:56 | 12:34:42 | 14.0 |
| 15 | N5.8 | 120 | Dick Macdonald | Linda Macdonald | 66.6 | 9:00:00 | 17:30:11 | 8:30:11 | 12:46:02 | 15.0 |
| 16 | F18 | 1025 | Todd Riccardi | Eric Witte | 62.4 | | | DNF | | 18.0 |
| 16 | F18 | 147 | Greg Vadasdi | Marc Lewenstein | 62.4 | | | DNF | | 18.0 |
Overall
| Rank | Class | Sail No | Helm | Crew | USPN | Start | Finish | Elapsed | Corrected | Nett |
| --- | --- | --- | --- | --- | --- | --- | --- | --- | --- | --- |
| 1 | Marstrom 20 | USA 1 | Bret Moss | John Casey | 58.0 | | | 13:19:00 | 22:57:35 | 1.0 |
| 2 | ARC22 | 2230 | Eric Roberts | Bill Roberts | 57.0 | | | 13:34:10 | 23:48:22 | 2.0 |
| 3 | Marstrom 20 | USA2 | Mike Phillips | Kenny Pierce | 58.0 | | | 13:54:35 | 23:58:56 | 3.0 |
| 4 | NacraIntl20C | 11 | MIke Krantz | David Lennard | 57.0 | | | 14:36:38 | 1:1:37:57 | 4.0 |
| 5 | N20 | 204 | Tripp Burd | Dalton Tebo | 59.3 | | | 15:42:00 | 1:2:28:32 | 5.0 |
| 6 | F18 | 605 | Jim Zellmer | Chris Stocke | 62.4 | | | 16:42:51 | 1:2:47:08 | 6.0 |
| 7 | N20 | 1324 | KIrk Newkirk | Glen Holmes | 59.3 | | | 15:55:19 | 1:2:50:59 | 7.0 |
| 8 | H16 | 105333 | Steven Craemer | Jason Aranha | 76 | | | 20:45:11 | 1:3:18:24 | 8.0 |
| 9 | F18 | 676 | Karl Langefeld | Jay Roth | 62.4 | | | 17:05:23 | 1:3:23:15 | 9.0 |
| 10 | F18 | 672 | Dave Ingram | Pete Cullum | 62.4 | | | 17:08:58 | 1:3:28:59 | 10.0 |
| 11 | N20 | 110 | Mark Smith | Joe Pocreva | 59.3 | | | 17:07:14 | 1:4:52:16 | 11.0 |
| 12 | F18 | 122 | Cosimo Malesci | Pietro Fabiani | 62.4 | | | 18:51:13 | 1:6:12:51 | 12.0 |
| 13 | F18HT | USA 14 | Jan Majer | Ian Sloan | 60.0 | | | 18:47:33 | 1:7:19:15 | 13.0 |
| 14 | F18 | 2572 | Scott Rathburn | Bill Dolan | 62.4 | | | 19:43:56 | 1:7:37:20 | 14.0 |
| 15 | N5.8 | 120 | Dick Macdonald | Linda Macdonald | 66.6 | | | 21.16.11 | 1.7.56.11 | 15.0 |
| 16 | F18 | 1025 | Todd Riccardi | Eric Witte | 62.4 | | | DNF | | 18.0 |
| 16 | F18 | 147 | Greg Vadasdi | Marc Lewenstein | 62.4 | | | DNF | | 18.0 |