Hobie Midwinters East
Photos by Terri Lusk
March 25-27, Ft Lauderdale Beach, Florida
Maybe the turnout was not like in the '80s where you would see 300 Hobies on the beach, but it sure was a great turnout of 59 Hobies and over 100 competitors: 35 Hobie 16s, 21 Waves, 2 Hobie 17s and 1 Hobie 20.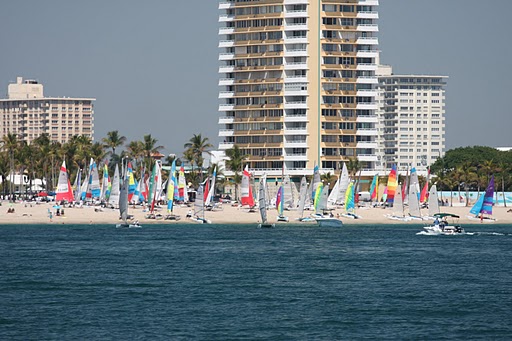 All on a very crowded tourist beach. If fact the entire area is very crowded and parking is basically a nightmare, but Steve Voeller of Fleet 44 worked with city officials and pulled off a nearly impossible task. Motor Homes were allowed to stay in the Bahia Mar Parking lot across the street for about $27 a night, which is a pretty good deal for the area.
Also there was only one slot through the wall to the beach to load and unload boats, but it worked very smoothly nonetheless, with all sorts of folks jumping in to help out and get the boats loaded and out of the loading area.
The evening events were great, starting off with cocktails and muchies on Friday Night and a great dinner on Saturday Night. We did miss having a beer after racing – no alcoholic beverages were allowed on the beach. Is beer an alcoholic beverage?
The Races
Saturday morning would have been a real drifter so Matt Bounds, PRO called for a postponement to await a sure-fire seabreeze, which occurred in early afternoon. The fleet was called off the beach and races began in light but building SE winds.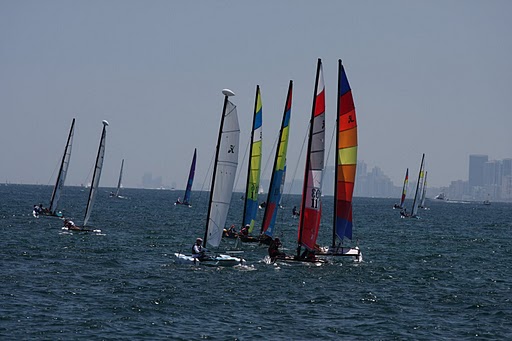 As the wind increased, so did the chop. The Hobie 16s dealt with the chop much better than the Waves did. The Wave has a pretty fat and buoyant bow that will not penetrate a wave, hence they just keep hobby horsing all the way up the weather leg.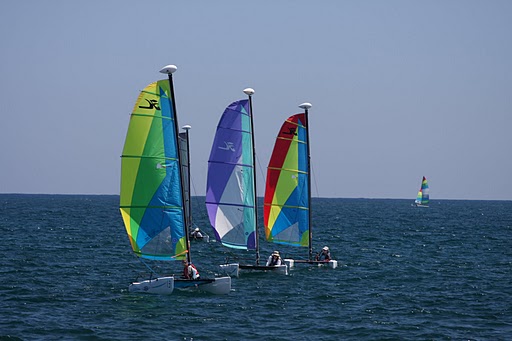 The weather mark became very elusive – the current was roaring and many had to take several attempts to get around it without hitting it. The Gulf Stream must have decided to come in close to shore for the day. Many an unwary competitor was snared by the current at the weather mark – if they didn't get washed off the boat from the cruise ship wind shadows as they left Port Everglades late in the day.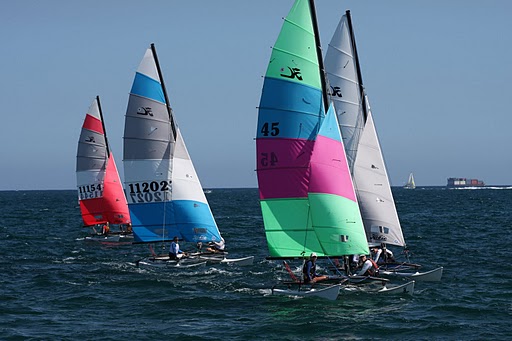 For the Waves the course was extremely long, compared to the norm, with the first few races taking well over an hour each. By 5:30 PM only three races were completed. The RC decided to go for a 4th race and set back the time for the Saturday Night dinner. About half the Wave Fleet voted with their feet and headed for the beach instead, including points leader, Leah White.
Sunday morning had good wind from a southerly direction and the chop was already up and bashing. Racing started right on time.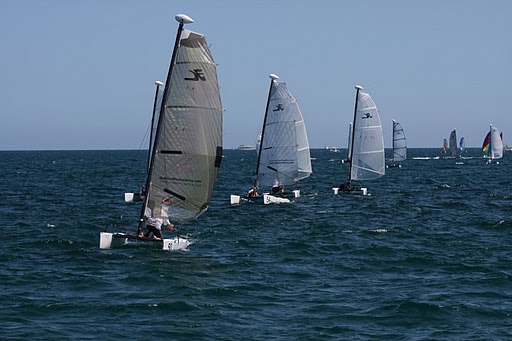 In the Hobie 16s, after the first day for first place there was tie with 4 points each between the two Puerto Rican Teams – The Streakin Rican, Enrigue Figueroa and Tito Aponte on the one hand, and on the other, Francisco Figueroa and Jolliam Berrios. Tom and Susan Korzeniewski were hanging in 3rd place with 12 point, just one point ahead of US Pan Am team of Greg Thomas and John Williams. Tied for fifth were Ken Hilk/Tina Pastoor and Bill Jeffers/Diane Bisesi.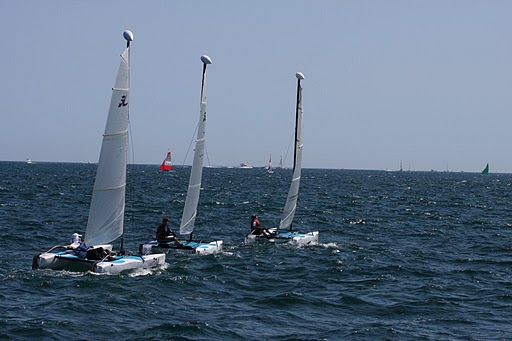 On Sunday Enrique and partner rattled off three bullets to win by by three points over Franciso and Berrios. Thomas and Williams stayed in the top group of finishers to move into 3rd place overall and get on the podium. The Korz edged out Jeffers/Bisesi for 4th place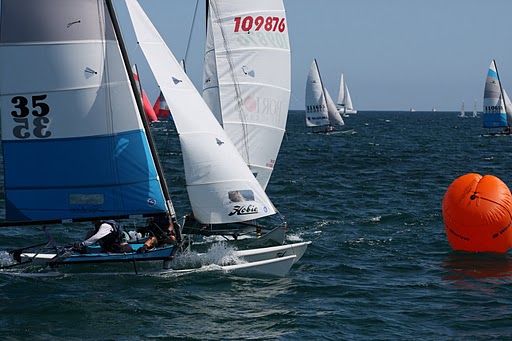 The Wave Class was being dominated by Leah White, two-time Wave National Open Champ and North American Champ taking two bullet and second. But, she decided not to race the 4th race on Saturday. It was just getting too cold for her to go on. Jack Woehrle, also National and North American Champ had the door left open to him and went through it, going into a tie with White. Dave White was in solid 3rd place, followed by Stan Woodruff, John Sherry, Scott Hubel, Mark Scarpelli and Skip Kaub.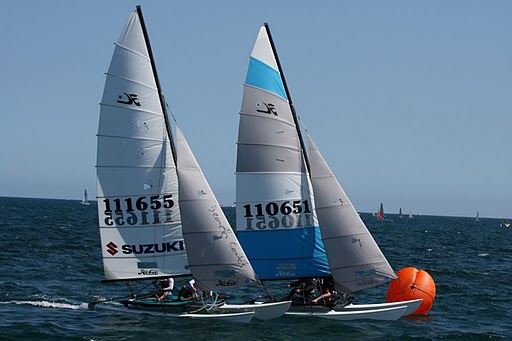 On Sunday Woehrle had one bad race, which was fortunately his throwout and he edged Leah White by 2 points for the victory. Dave White was in third, with no one even close. Fourth was Stan Woodruff. Chris Stater had a bad day of racing on Saturday, but really got it together on Sunday, with finishes of 4-1-2 to end up in 5th place overall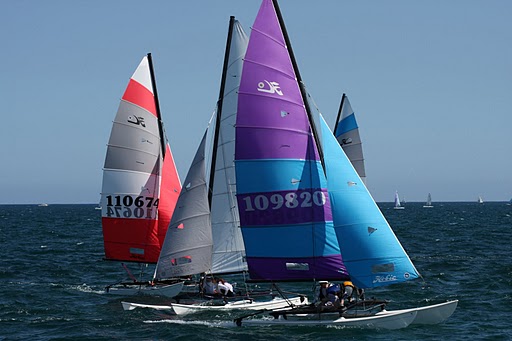 H17 was won by Steve & Kathleen Acquart and the 20 Norm Hansen and Gary Turbeville
Big thanks go to Regatta Chairman Steve Voeller, his wife Michelle and all the volunteers who pulled together to make this idea of a South Florida Midwinters a reality. Credit also goes to sponsors Nautical Ventures (local Hobie Cat dealer), The Bahia Cabana Resort, Quality Power and Sail, Ocean Machinery, Inc. Hobie Cat Company USA, Hobie Polarized and Arriba Performance Products and many others.
The Racing Marks & Anchors, 100 complementary magazines and over $500 worth of merchandise were also donated by Catamaran Sailor Magazine, and its www.OnLineMarineStore.com.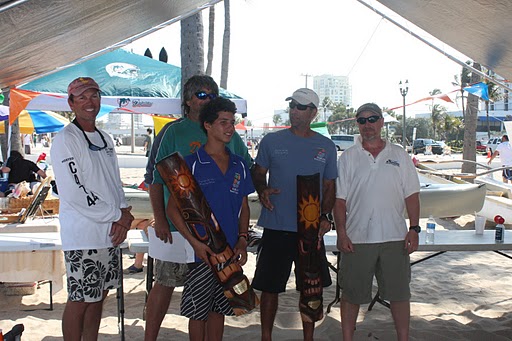 Tito Aponte and Enrique Figueroa hold their first place trophies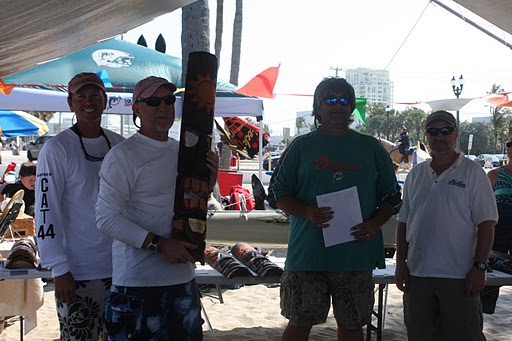 Jack Woehrle won the Wave Class
More Pictures by Terri Lusk: