Heavy Winds and Flying Catamarans
All Photos by Cindy Cady
www.racebook-us.com

Nearly seventy high-speed, high-tech catamaran sailboats came from all over North America for the 2010 Tradeswinds Midwinter Open Cat National Championships held off the beach of Founders Park, and hosted by Founders Park Watersports on the Bayside of the Islands. The event was Friday through Sunday January 15-17. There were six different classes of boats, with the F16 and F18 Classes each featuring their Class Midwinter Nationals. Separate courses were set for the spinnaker boats and another for the non-spinnaker cats.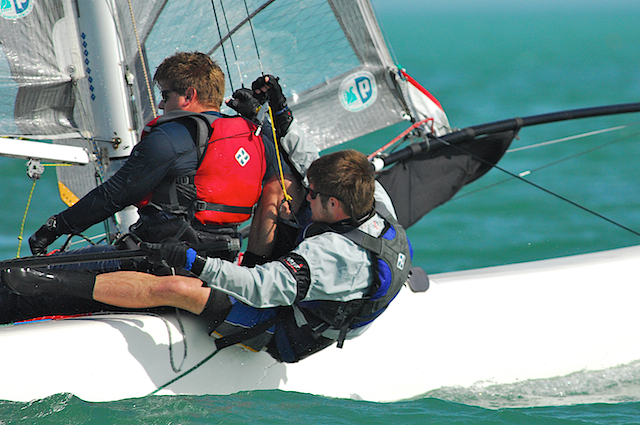 After a record cold-spell that has killed millions of fish and had locals shivering, the weather finally broke with warm temperatures and winds between 15 and 20 mph for all three days – ideal sailing conditions.
Key Largo sailor, Dave White, won the coveted Carlton Tucker Memorial Trophy for the winner of the biggest class – the Hobie Wave. It was a tie between he and Ray Matuszak of Put-in-Bay, Ohio, with the tie breaking in favor of White.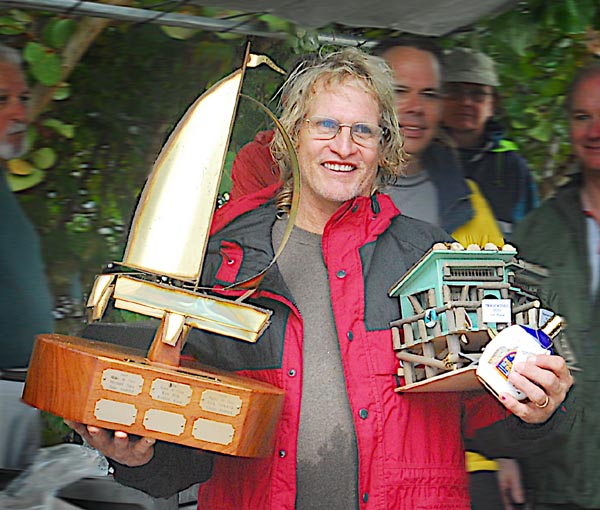 Dave White receives the Carlton Tucker Memorial Trophy for winner of the largest class.., the Hobie Wave winner

Other top sailors from South Florida were Kelly Davis of Key Largo taking 2nd place in the Open Handicap Class, Robbie Daniel of St. Petersburg getting 2nd in the Formula 16 Class and Stan Woodruff of Ruskin taking 3rd place in the Hobie Wave Class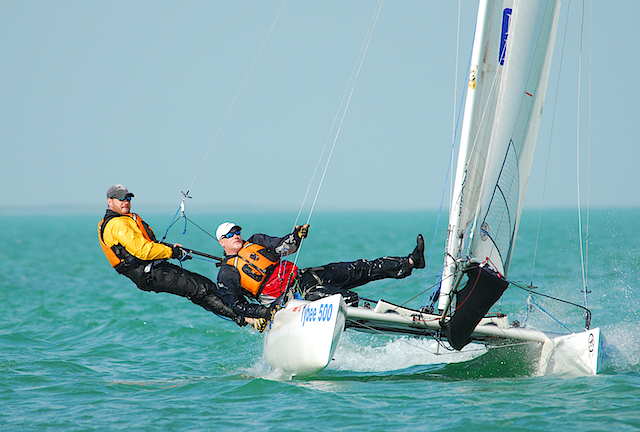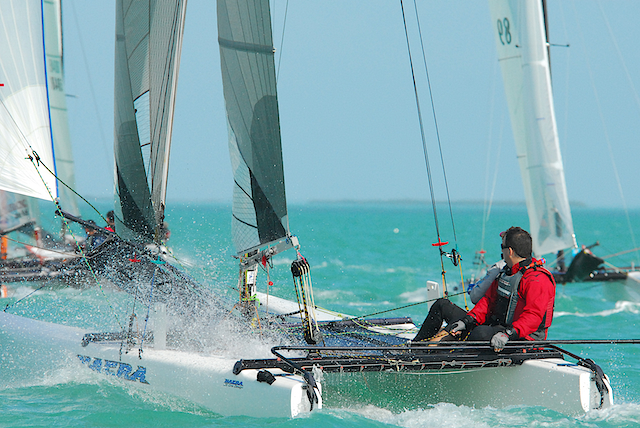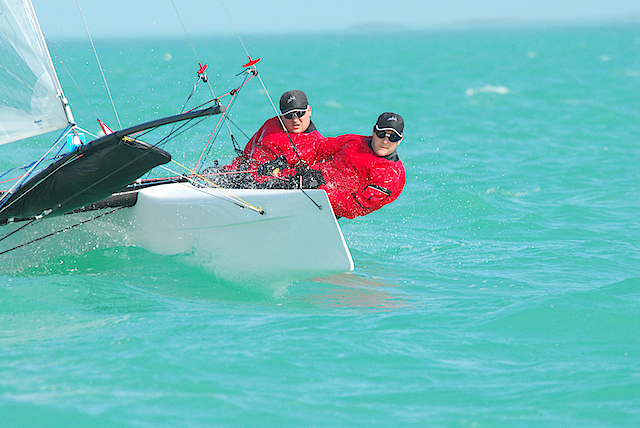 John Tomko and Ian Billings were Red Hot sailing their new Hobie F18

The Races
In the Wave Class, Dave White took 5 bullets out of twelve races to capture the title, with Ray Matuszak of Ohio finishing 2nd in a tie, and Stan Woodruff was third. Skip Kaub of Indianapolis, Indiana just missed the podium by one point.

The Hobie 16 Class was won by Ken Hilk/Chris Bradhaw, followed by Eric Raybon/Julian Vidal and Greg Raybon/Carol Hilk. The Open Class was won by a Shark Catamaran sailed by Jerry Pattenaude/Susie Bennet of Virginia Beach, Virginia, followed by Kelly Davis of Key Largo on a Hobie 17, then Kyle Robberts/Tracy Curry on a SuperCat 17.
The Nacra 20 Class was won by Trey Brown of Raleigh, North Carolina, Then Jake Kohl of Columbia, South Carolina, and Mike Hill of St. Louis, Missouri
This was also the Midwinters Nationals for the Formula 16 and Formula 18 Classes. The F16 Class was won by Chris Prentice/Patrick LaRoche, followed by Robbie Daniel/Kelly Kruger of Clearwater, Florida, and Sandra Tartaglino of Long Beach, California.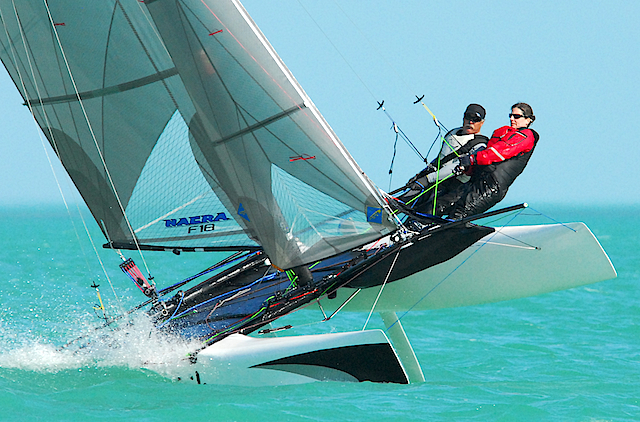 The F18 Class was won by John Tomko/Ian Billings of San Antonio, Texas, then Mike Easton/Tripp Burd of Connecticut, and Nigel Pitt/Alex Shafer of Lake Hartwell, Georgia.
Next year's event promises a bit warmer weather and the same great Tradewinds. It is always scheduled on the weekend of Martin Luther King holiday.
This is the first year the event has changed to a three-day schedule and had two separate courses: one for spinnaker boats that like windward-leeward courses and gates; the other for boats that like some reaching.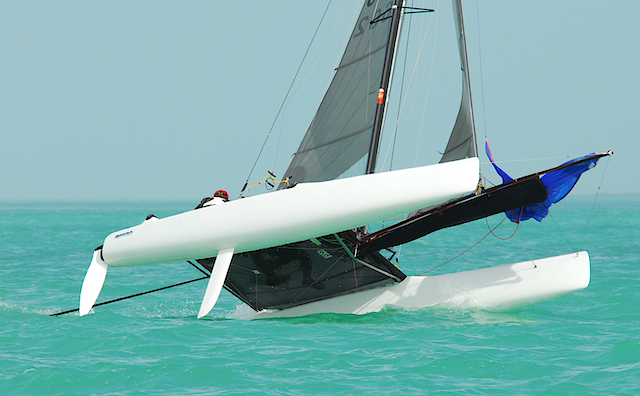 Regatta organizer, Rick White of Key Largo, said, "We put this event on annually over the Martin Luther King Weekend, during what we believe is a great time of the year for both the sailors and the local economy – it gives the folks time away from the zero-degree weather up north, and it helps the motels, restaurants and shops locally during that little window of off-season that happens here in the Florida Keys after the new year."
The event was sponsored by Catamaran Sailor Magazine of Key Largo, CABB (Catamaran Assn. of Biscayne Bay),, www.OnLineMarineStore.com, Rick White's Sailing Seminars, Calvert Sails of St. Petersburg and Founders Park Watersports.
More Great Pictures by Cindy Cady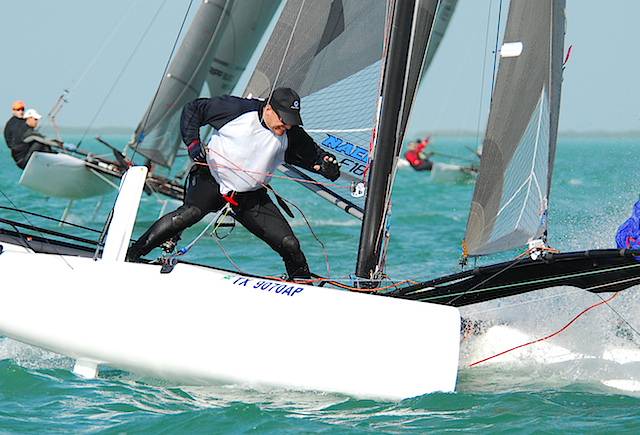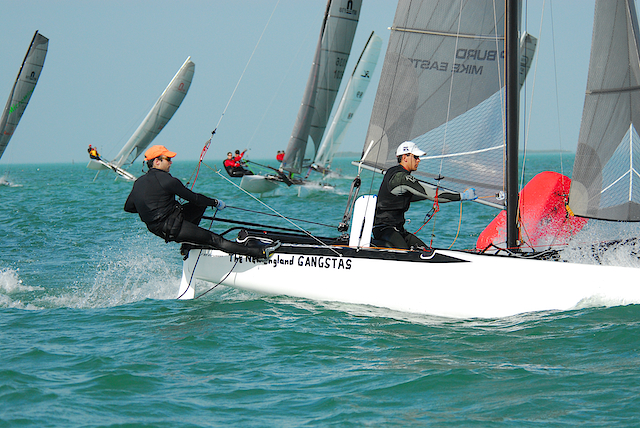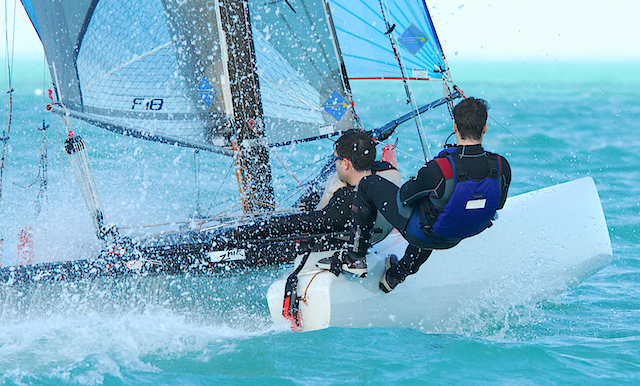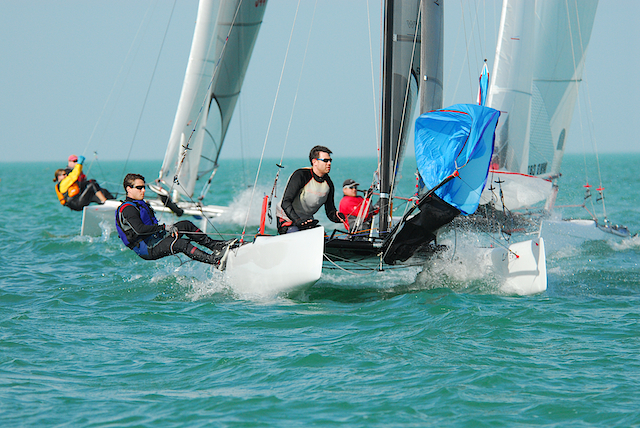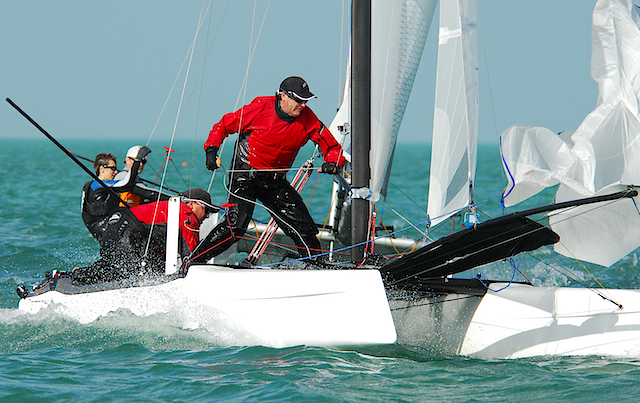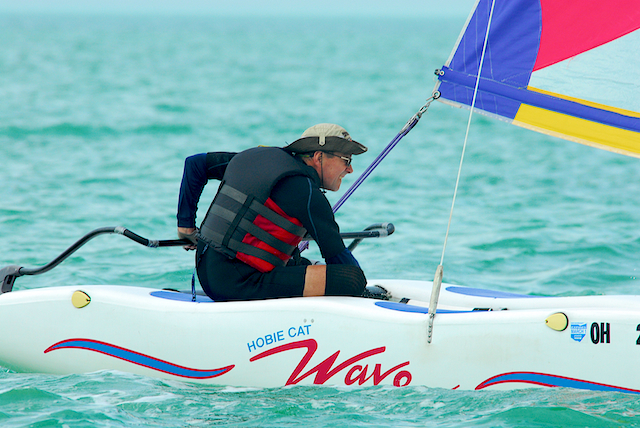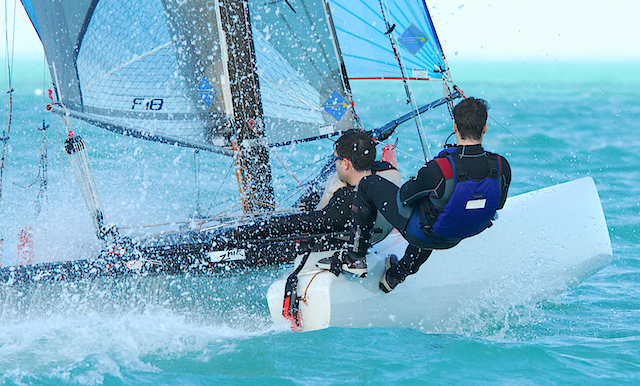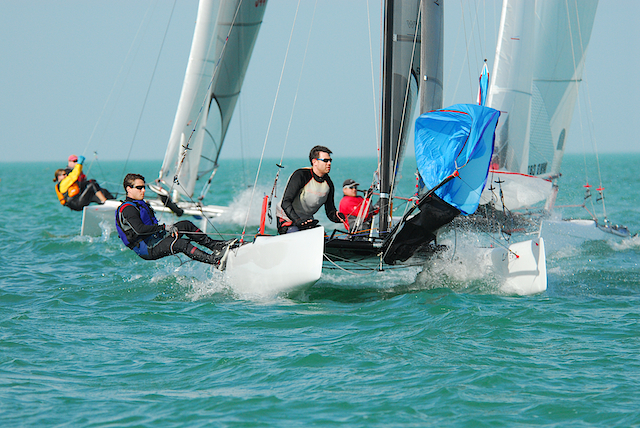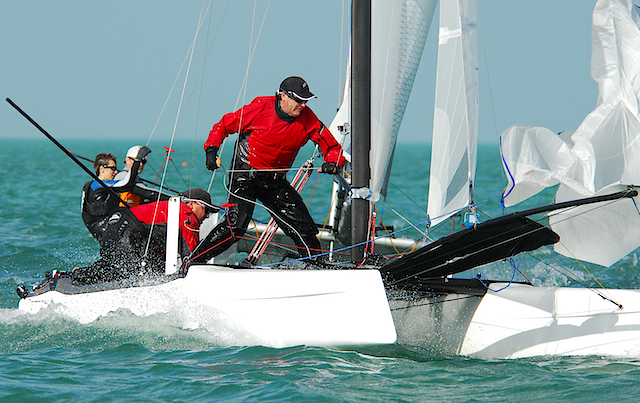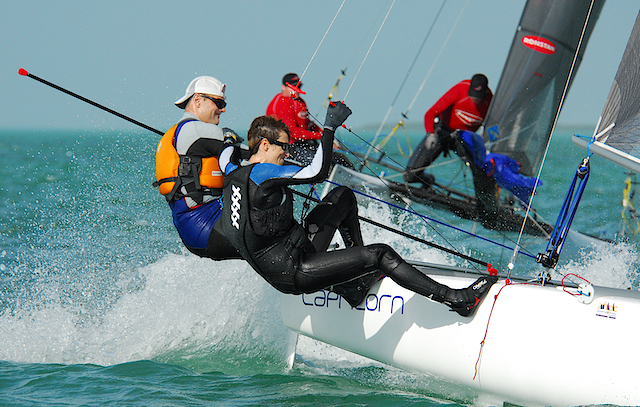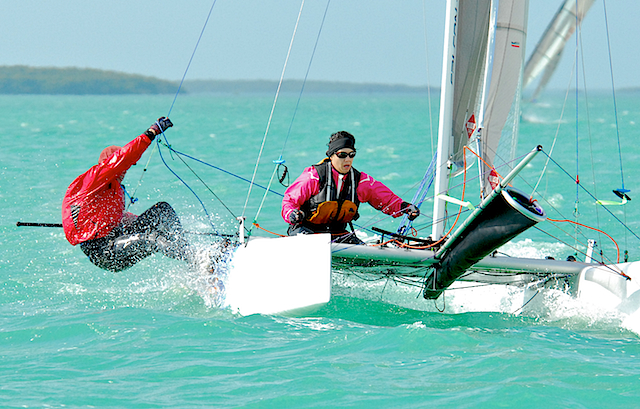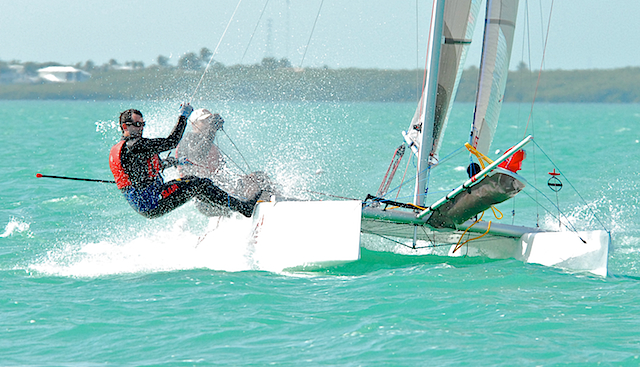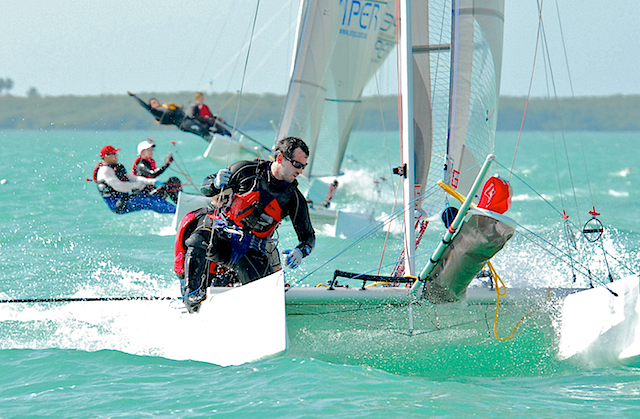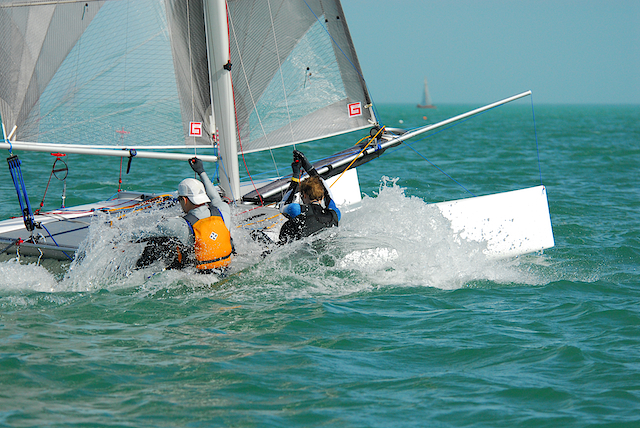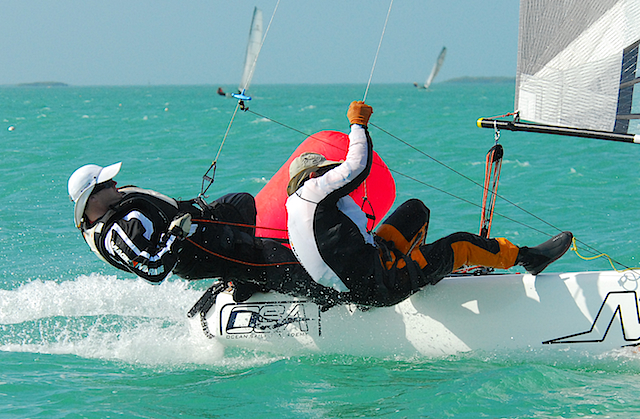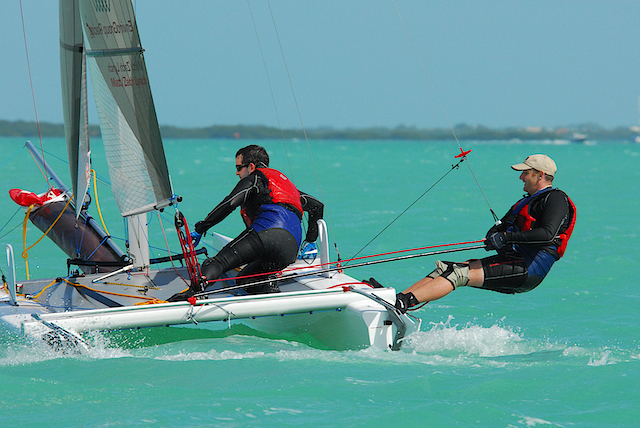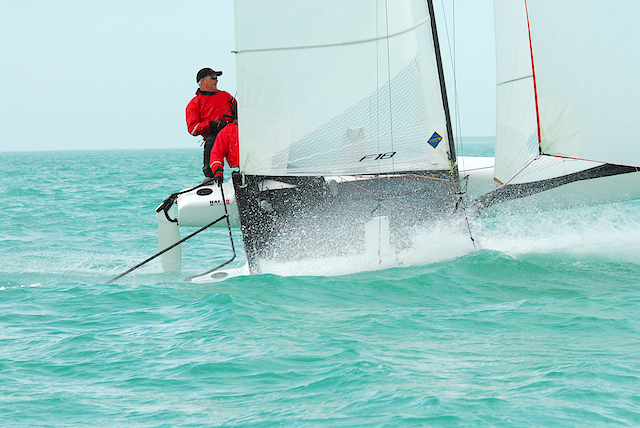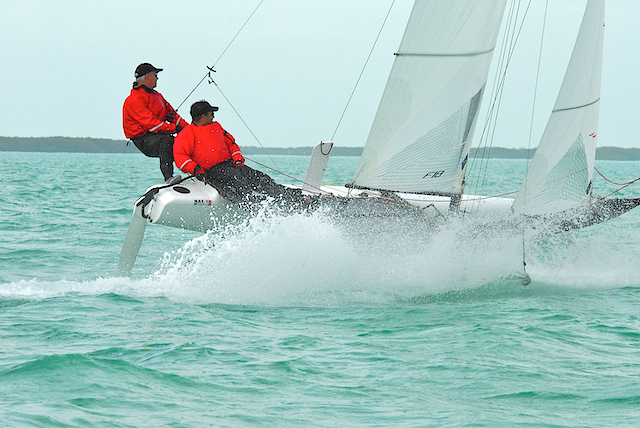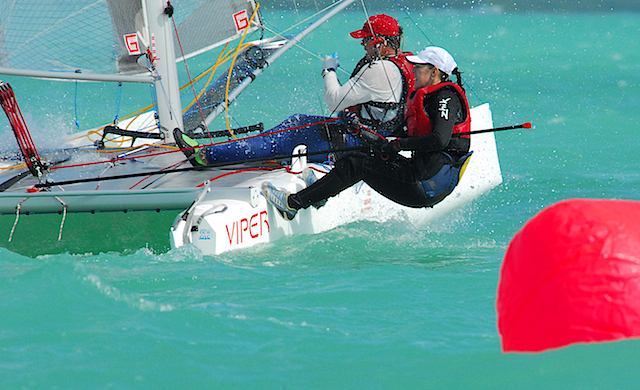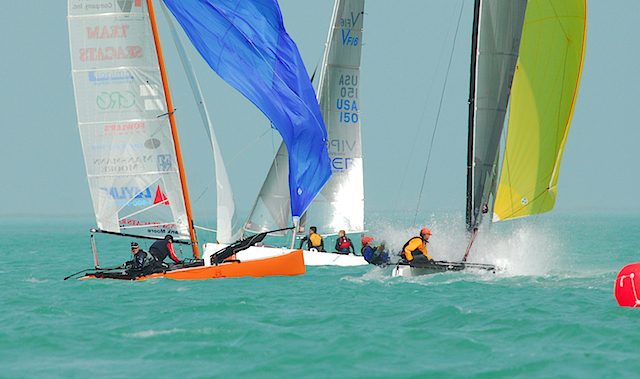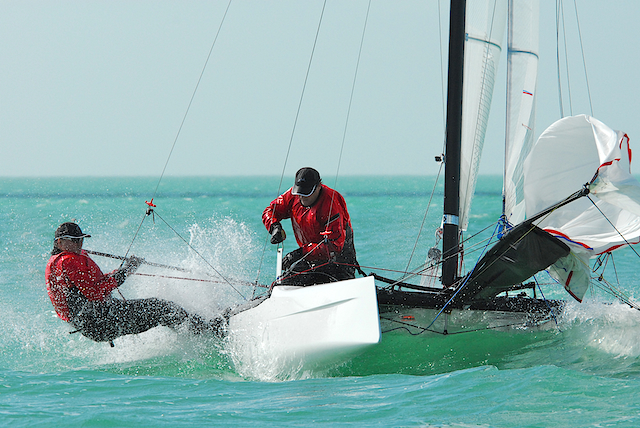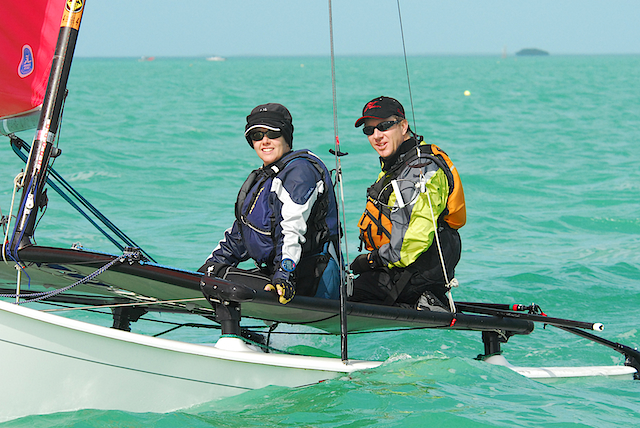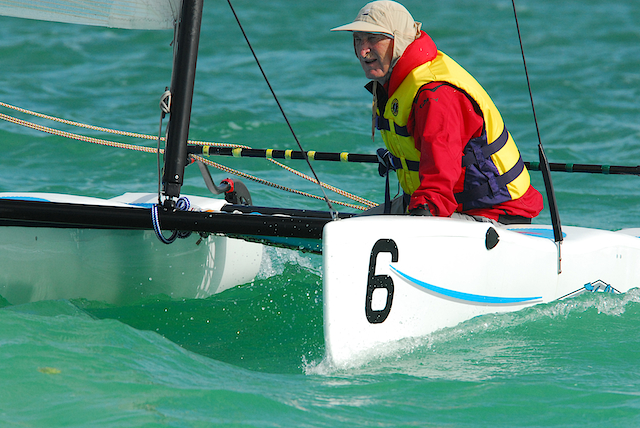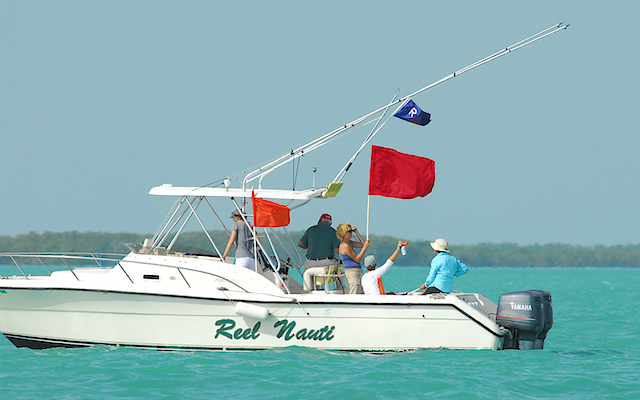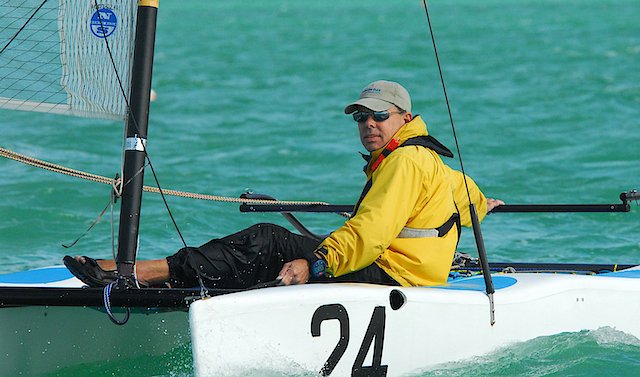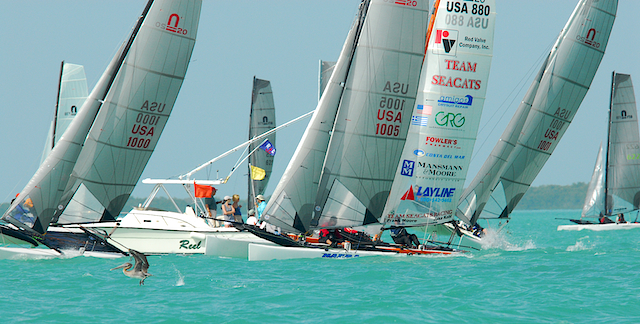 Results
Wave Class
1. Dave White -- 31
2. Ray Matuxzak -- 31
3. Stan Woodruff -- 39
4. Skip Kaub -- 40
5. Leah White -- 49
6. Steve Abbey -- 63
7. Don Harper -- 66.2
8. Mark Scarpelli -- 83
9. Mike Powers -- 193
10. Sharon Woodruff -- 109
11. Marlyn Hahn -- 110
12. George Baisley -- 121
13. John Sherry -- 132
14. Gergory Vadasdi -- 136.4
15. Jose Castello -- 142.9
16. Bruce Harman/Edith Nickel -- 164
Hobie 16 Class
1. Ken Hilk/Chris Bradhaw -- 18
2. Eric Raybon/Julian Vidal -- 25
3. Greg Raybon/Carol Hilk -- 25
4. WTaylor Palmer/Mac Agnese -- 46.2
5. Eva Paelinck/Raul Lopez -- 49.1
6. Bob Cheryl Johnson -- 69
Open Class
1. Jerry Pattenaude/Susie Bennett (Shark) -- 13
2. Kelly Davis (Hobie 17) -- 22
3. Kyle Robberts/Tracy Curry (Supercat 17) -- 30
4. Tony Priu/Mark Lipkus (Nacra 6.0) -- 50
Nacra 20
1. Trey Brown/Jamie Livingston -- 12
2. Jake Kohl/Frank Moore -- 28
3. Mike Hill/Holly Hoffman -- 31
4. Kirk Newkirk/Glenn Holmes -- 64
5. Marle Smith/David Johnson -- 78
6. Rick & Terry Loewen -- 83
7. Craig Wilusz/Deborah Deats -- 84.6
8. Sam Carter, Ryan Boyle -- 94
9. Tad Pecorak/Bailey White -- 96
10. Charlie Trinque/Joe Vilanueva -- 101
11. Brett Robinson/Alan Freedman -- 106
12. Chris Zander/David Strickland -- 118
Formula 16
1. Chris Prentice/Patrick LaRoche -- 17.6
2. Robbie Daniel/Kelly Kruger -- 30
3. Sandra Tartaglino/Eric Witte -- 32
4. Taylor Reiss/Matthew Whitehead -- 33
5. Matt & Gina McDonald -- 36
6. Terry Back/Schori Martin -- 61
7. Karl Brogger/Don Krueger -- 76
8. Seth Stern -- 77
9. Pete Pollard/Jay Roth -- 102
10. Gregory Vadaski/Jose Castello -- 106
Formula 18
1. John Tomko/Ian Billings -- 18
2. Mike Easton/Tripp Burd -- 23
3. Nigel Pitt/Alex Shafer -- 25.5
4. Samual Adelman/Chris Titcomb -- 54
5. Todd Riccardi/Brendan Scanlon -- 59
6. Mike Krantz/Laura Muma -- 78
7. David & Kathy Ingram -- 80
8. Aaron McCulley/Clay Cassel -- 83
9. Chris Tuckfield/Ela Sliwerska -- 99
10. Chad Schwall/Wiz -- 108
11. Karl Langefeld/Beth Bonifant -- 123
12. Jacopo & Nilufer Bracco -- 143
13. Laura Zahradnik/Luke McAllum -- 147
14. Matt Krogstad/Thomas Pontay -- 151