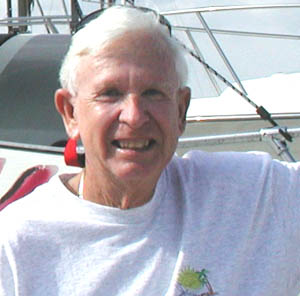 ---
Hall of Famer - Jack Schuh
---
Jack Schuh has enjoyed a long and eventful career in sailing circles, and in particular his contributions to the growth and popularity of the sport catamaran have been considerable.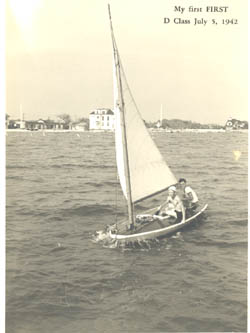 This skinny guy on the front of the boat is Jack Schuh in 1942 sailing in New York.
He discovered his life long passion for sailing in his youth on the Great South Bay, out of Sayville, Long Island, New York. His very first win, which whetted his competitive drive, on July 5, 1942 in a Barnagat Bay Sneak Box, which was a small gaff rigged cat boat, similar to a scow.
As a teenager, he successfully raced Snipes, Lightnings and local one designs and despite his youth he was awarded the most prestigious sailing trophy on the South Shore, The Sacred Pants in 1944. He then went on to compete with the University of Miami`s racing team on
Biscayne Bay during the late 40`s.

As it turned out, Miami was the perfect place for a boating fanatic to settle, and he has made those his home waters ever since. Jack has always contended that he has salt water in his veins, but in 1964, he truly discovered the love of his life --multihulls.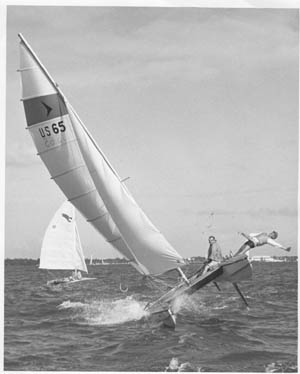 Jack on the Helm and wife and crew of 50 years, Lou, trapeze on Biscayne Bay on the their Shark Catamaran
He bought a Shark catamaran and found the joy of (a 4 year time frame) racing the fastest one design sailboat in the world. He threw himself into organizing the Shark class and was the editor of the class newsletter. He was also the first class secretary, and treasurer. During this time the Shark was absolutely the dominant one-design cat around the country and the racing scene quickly became very competitive.

Jack organized the first Shark Mid-Winter Nationals, which was created for those hardy, racing incorrigibles who could take a break and compete in the finest racing in Florida during the winter months. During the 70`s , the Mid-Winters became very popular -- one regatta had 28 Sharks competing.


From l to r: Lou and Jack Schuh, being presented the Shark Jaws for the Midwinter Nationals by Class President Al Perrin.
The first time Jack and his long time crew and wife, Lou, won the Mid-Winters was in1970. Jack created an outstanding trophy for this event which has the full jaws of an 450 pound Bull Shark mounted prominently on a beautifully finished piece of wood. This beautiful trophy had been on display in family rooms and yacht club trophy cases all over the country and remains in circulation today.
Jack continued to race Sharks for many years and still can easily be persuaded to helm one for racing chums.

He then became very active in Tornado catamaran racing circles and campaigned his Tornado "No Guts, No Glory" in both the 1976 and 1980 Olympic trials. He has often said that the Tornado was the most humbling boat he ever skippered, as the quick responses left no room for error.
During a local television filming session, while flying a hull over the top of the television crew boat, one small fluke in the wind, and bang, he laid the Tornado right down, full square on top of the TV crew`s power boat . The boards hung on the power boat rails, and chaos ensued (thankfully , no injuries) , which certainly didn`t stop the filming. As could be expected, the film clip certainly made the blooper circuit!
Jack`s devotion and service to multihull racing is legendary in the Biscayne Bay area.. From his earliest demands to allow Sharks into local racing circuits to his current ownership of a Seawind 1000, he has never faltered in his drive to educate and to promote the joys of owning and racing multihulls.
He was instrumental in the organization of the Multihull Association of South Florida. (MASF). He also helped open the way for multihulls to compete in the Ft. Lauderdale to Key West race and other ocean going races. Particularly in the early years, there was little understanding or acceptance on local racing circuits for those go-go multihull guys who finished the races too quickly and always seemed two legs, and one party, ahead of the prevailing mono-hull guys.
Jack persisted, sailing, working, and promoting as cats became increasingly popular, his efforts paid off, and they began to be taken seriously.
Jack has been a member of the Miami Yacht Club since 1969 and has served as head of every committee and held every flag office available. He was commodore in 1981 and in 2001, in
acknowledgment of his life time service, became an Honorary Life Member of the club. A signal honor which has only been awarded 13 times in the club`s 75 year history. He remains involved in the club, and can be found there most days.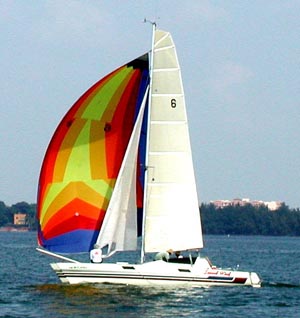 Jack's big boat was a Stiletto 30 named "Second Wind."
In addition to his long standing love affair with smaller racing cats, Jack has owned, raced, and blue water cruised, a Stiletto 30, the "Second Wind", for 19 years. He has competed in SORC and has won numerous races both in Biscayne Bay and off shore over the years. He has
competed in the Miami to Key Largo race for 35 years, and with one exception of a boat failure in the middle 70`s, and flipping the Stiletto in the 90`s, has always finished that race, despite wind, no wind, rain, blazing sun, grounding in the flats and all the other routine hazards the Keys produce.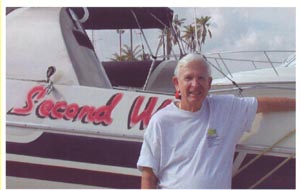 He won with the "Second Wind" in both 01` and 02`. Jack has been married to his wife Lou for 49 years and hope to celebrate their 50th in 03`. Lou was his first Shark crew and also competed herself as a finalist two times in the Adams Cup for women champions in the late 60`s, they are truly a sailing couple. Jack is also active in volunteer work supporting Interplast, a group of doctors and nurses who donate their time and talent to perform plastic reconstruction surgery on children in third world countries. His activities with them include acting as a translator and medical secretary supporting teams of doctors working with children in South America.

Overall, Jack's love of sailing competition allowed him to recognize very early on the potential on the one-design racing cat, and he has been a tireless supporter and promoter of the multihull ever since. Many a sailor in sunny south Florida has called upon his expertise and
guidance, and he strongly feels that the people he has met over the years in the sailing and racing circles have been truly the salt of the earth.
In May of 2003 Jack fell in a bicycle accident and suffered severe spinal injuries. He never recovered and passed away on May 30, 2003. He will be missed by us all.