2009 WAVE NORTH AMERICAN CHAMPIONSHIPS
Story and Photos By Greg DeRossett
The picturesque beauty of the Indian River Lagoon provided an idyllic backdrop for the 2009 Wave North American Championships. Hosted by Performance Sail and Sport and co-sponsored by Ocean Potion Suncare Products, this inaugural event enticed participants from as far away as Ohio with mild fall temperatures, intense competition, Florida hospitality and the camaraderie so prevalent in catamaran sailing.
Three days of varying conditions, provided a nautical treat for those sailors making the trek to Brevard County on Florida's Central East Coast. Performance Sail and Sport is perfectly positioned along US 1 parallel to Pineda Causeway and directly accessible to the Indian River. The shallow, sandy shelf and semi-protected beach allowed for easy pre-race launch and post race return with plenty of room for the set up and break down of entrants' Hobie Wave catamarans. Additional launch access was available at Pineda Landing, a water sports launch park, meticulously maintained by Brevard County's Parks and Recreation Department. Pineda Landing is directly adjacent to Performance Sail and within easy walking distance of the host facility.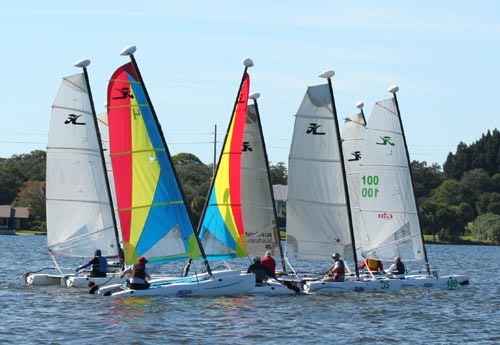 Superstition aside, Friday the 13th was a perfect day for sailing catamarans, with prevailing winds maintaining a steady 15 knots, and blasts hitting the fleet at 17 knots +. Mother Nature, aided by a departing Tropical Storm Ida, proved to be directionally challenged, as the breeze clocked 30 degrees or more during racing. The Race Committee diligently worked to overcome the daunting challenge of maintaining a balanced start line and placing the necessary marks to accurately reflect the prevailing winds. Even in the shifty, unpredictable conditions, several sailors were able to assemble some credible performances to stand out from the rest of the fleet. Sailors ostensibly came to race during this regatta and they were not disappointed. Five races were saved to the hard drive this first day with Mark Scarpelli immediately making his intensions known by sailing for the victory in Race 1. Stan Woodruff led the fleet around the course in Races 2, 3 and 5; while Jack Woehrle laid claim to his single bullet for the day, taking the seemingly unfavored tack at the start in Race 4 and the subsequent victory. Rick White, sailing well throughout the day, finished consistently within the top 4 with the exception of a sixth place finish in Race 3. Nelson Wright remained within beer throwing distance of the leaders, but couldn't find enough wind to overtake them.
Adding to the agitation of the tricky weather patterns were cruisers motoring south, apparently mistaking the course markers for temporary channel markers. They unwittingly provided some excitement by plowing right through the start line during one start sequence amidst calls from the RC and shouts from the Wave sailors. No mishaps or damage done, but interesting on a purely comedic level nonetheless.
Friday's post race festivities were celebrated at Conch Key, a casual waterfront restaurant a short distance from the race course. Conch Key generously donated three gift certificates for a complimentary dinner to the top sailors of the day.
Saturday's sunrise brought warmer temps, lighter air and cloudless skies with forecasts of diminishing breeze. In light air and glassy conditions, Mark Scarpelli handily bested the fleet in Race 6 of the series, only to be out sailed in the remaining six races. Jack Woehrle, disappointed by his out-of-character sixth place finish in Race 6, eagerly revealed the fastest way around the course with wins in Races 7, 8 and 9. Rick White, proving he possessed the patience to sail in minimal breeze, proceeded to win Races 10, 11 and 12. One-time Wave Nationals winner, Scott Hubel—whom on this day, also happened to be the youngest sailor at age 49, took time from his organizer duties to mix it up with the fleet on a stock, out-of-the-box Wave and posted some respectable Top 5 finishes for the day. By the time Momma Nature pulled the breeze plug in Race 12, the leaders had crossed the finish line and the RC had raised the shortened course flag. Stragglers were given their finish positions as they rounded the final reaching mark. Racers were forced to hand paddle the few hundred yards to the beach, thus ending the racing for Day Two in human propulsion mode.
Saturday's after race merriment was catered by Kay's BBQ of Cocoa, FL and held on the deck of Performance Sail. This perfect perch provided an unobstructed view of the Indian River and while tired sailors enjoyed delicious bar-b-q, frosty beverages and a rehash of the day's events, the sun set on another spectacular Florida day.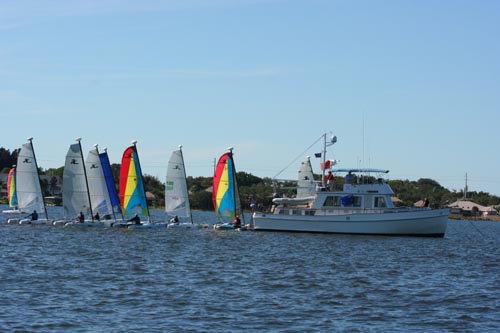 Sunday's race preparations were interrupted by an announcement from the Race Committee that no races would be started in less than 5 knots of breeze as a pre-emptive measure to the previous day's lack of wind. Day Three was quickly establishing itself as the finest sailing day of the Wave North American Championships as racers filed out onto the race course in a moderate 7-10 knot breeze, mild temps in the high 70's and just a hint of clouds. Nelson Wright, deciding his previous day's effort was not indicative of his real ability, sailed brilliantly, winning a closely contested Race 13. With the usual suspects lining up to take their share of prizes and a new face, Sharon Woodruff, maneuvering out of the laggards, Day Three proved to be not only ideal in conditions, but also in excitement after the previous day's doldrums. Satisfaction was not the song playing on the chase boat radio, as each race produced a new winner. Utilizing varying tactics, starting positions and course management strategies, Races 14, 15, 16 and 17 were won by Jack Woerhle, Mark Scarpelli, new-to-the-podium Sharon Woodruff and Rick White, respectively. Racers were allowed 2 throw out finishes for the 17 races and with that, Jack Woerhle proved to be Mister Consistency for the Regatta with Top Five finishes being the norm and a total of 5 first places finishes!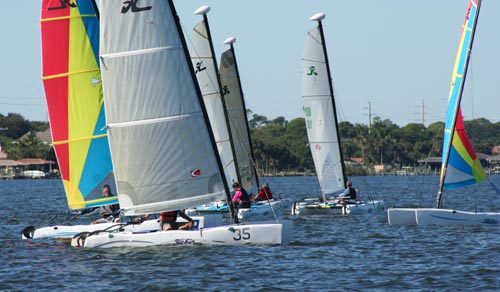 Returning to the beach in a building breeze, sailors were already making plans to return for next year's Regatta as they discussed the weekend's races, weather and wondering cruisers. Post regatta on the Performance deck was full of congratulatory handshakes, hugs and the ubiquitous promise to return next year, as Scott and Dior announced the winners for the 2009 Wave North American Championships.
A Big Thank you to Gary DeAngelo of Ocean Potion for his dazzling generosity including the use of the Ocean Potion Contender for race support. Thank you to Mike Huck, Sr. for providing his beautiful boat, Sybaris for committee boat duties along with Bobby Huck, Kelly Huck and Warren Green for fulfilling the race committee responsibilities with determination and commitment. Special recognition must be given to Bob and Karen Sowden, Dave Andrews, Kent Cooper and Greg DeRossett for exceptional race support. From the racers, RC and support teams, an enthusiastic "Good on ya, mates!" to Scott and Dior Hubel of Performance Sail and Sport for organizing, hosting, and supporting this spectacular sailing event! Watch for next year's Regatta dates right here in a future issue of Catamaran Sailor. Hope to see you next year!!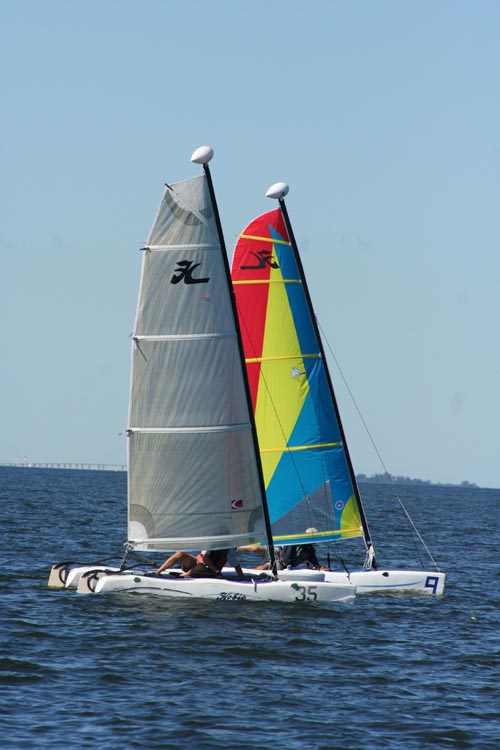 Wave North American Championship
November 13th Thru 15th
Results:
| | | | | | | | | | | | | | | | | | | | | |
| --- | --- | --- | --- | --- | --- | --- | --- | --- | --- | --- | --- | --- | --- | --- | --- | --- | --- | --- | --- | --- |
| PLACE | Hull # | Capt | R1 | R2 | R3 | R4 | R5 | R6 | R7 | R8 | R9 | R10 | R11 | R12 | R13 | R14 | R15 | R16 | R17 | TOTALS |
| 1 | 100 | Woehrle | 4 | 5 | 2 | 1 | 2 | 6 | 1 | 1 | 1 | 2 | 4 | 4 | 2 | 1 | 2 | 3 | 5 | 35 |
| 2 | 21 | White | 2 | 4 | 6 | 2 | 4 | 3 | 3 | 4 | 4 | 1 | 1 | 1 | 3 | 3 | 6 | 4 | 1 | 40 |
| 3 | 6 | St. Woodruff | 3 | 1 | 1 | 4 | 1 | 2 | 6 | 3 | 2 | 8 | 2 | 2 | 13 | 5 | 3 | 2 | 6 | 43 |
| 4 | 3 | Scarpelli | 1 | 2 | 5 | 3 | 3 | 1 | 5 | 5 | 3 | 3 | 7 | 3 | 6 | 7 | 1 | 6 | 4 | 52 |
| 5 | 35 | Wright | 6 | 3 | 4 | 5 | 6 | 5 | 4 | 6 | 5 | 6 | 6 | 5 | 1 | 2 | 5 | 5 | 2 | 64 |
| 6 | 5 | Sh. Woodruff | 7 | 7 | 8 | 8 | 5 | 13 | 7 | 7 | 6 | 5 | 8 | 8 | 7 | 4 | 4 | 1 | 3 | 87 |
| 7 | 2 | Harper | 5 | 7 | 8 | 8 | 5 | 7 | 8 | 8 | 7 | 7 | 3 | 6 | 5 | 6 | 7 | 7 | 7 | 95 |
| 8 | 7 | Hubel | 13 | 13 | 13 | 13 | 13 | 4 | 2 | 2 | 8 | 3 | 5 | 7 | 13 | 13 | 13 | 13 | 13 | 135 |
| 9 | 99 | Willis | 10 | 10 | 13 | 13 | 13 | 9 | 10 | 11 | 9 | 9 | 9 | 9 | 8 | 8 | 9 | 8 | 8 | 140 |
| 10 | 1 | Cooper | 9 | 9 | 13 | 9 | 9 | 10 | 12 | 12 | 10 | 10 | 10 | 13 | 9 | 9 | 8 | 10 | 10 | 146 |
| 11 | 7 | Rutan | 13 | 13 | 13 | 7 | 8 | 11 | 11 | 10 | 11 | 11 | 11 | 13 | 10 | 13 | 10 | 9 | 9 | 157 |
| 12 | 4 | Moran | 8 | 6 | 7 | 13 | 13 | 8 | 9 | 9 | 13 | 13 | 13 | 13 | 13 | 13 | 13 | 13 | 13 | 164 |
| 13 | 8 | McCaw | 13 | 13 | 13 | 13 | 13 | 13 | 13 | 13 | 13 | 13 | 13 | 13 | 13 | 13 | 13 | 13 | 13 | 195 |
THROW-OUTS