Kathy Kulkoski Takes All the Marbles at 7th Annual Wave Nationals
Key Largo, Dec. 2-4, 2004
Kathy Kulkoski of Sandy Hook, New Jersey, has in the past won the Womens Class of the Hobie Wave Nationals several times and placed well in the Open Class. But this year she was outstanding and often led the fleet by a leg. She took the Open Class Perpetual and again won the Womens Class.

Kathy was sailing one of the oldest boats in the fleet and still won the regatta handily

Husband Dan Kulkoski was last year's winner, but struggled early on in the event. He made a great comeback but had to settle for third place in a tie for second. Dave White of Key Largo and son of Hall of Famer Rick White, took second place, eleven points behind the leader.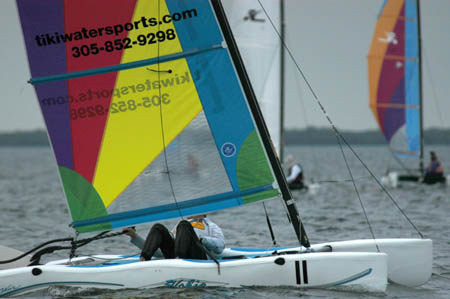 Dave White was sailing a new boat supplied by Hobie Dealer Tiki Water Sports
The Races
On the first day the winds were very light and, at times, non-existant. The RC was still able to get in two races. This is probably a record for light air in the Keys. The Waves have always had great wind for the event over the last 7 years.
Dave White had a slight lead at the end of the first day in the light stuff.., apparently drifting better than most.
On the second day of racing the air was around 8-10 mph most of the day and on the third day it was blowing nicely around 12-15 mph in very flat seas – it was ideal sailing.
Kathy took the lead with great finishes, while White and Jim Glanden duked it out for the second spot.
On the last day it was a bit tricky as five of the top boats were over early in one race and did not come back to restart – they had to use this OCS as a throwout and keep some high scores. Those that were hurt were Kathy Kulkoski, Jim Glanden, Stan Woodruff and Bob Bergstedt.
Kathy was able to hold on for the rest of the 14 races, but it dropped Glanden and Woodruff down the charts.

Mark roundings were always tough

This was one of the few times Kathy (41) was behind Dave White (11)

Kathy (41) in a tight rounding with Bob Bergstedt (65), Dan Kulkoski (3M in sail) and others

Marylou Chambers (25) and Barb Short (21) battle it out downwind approaching the leeward mark
Sponsors
Hogsbreath Saloon of Key West was the primary sponsor, as was Catamaran Sailor Magazine's www.onlinemarinestore.com and Rick White's Sailing Seminars. West Marine of Key Largo supplied the racing buoys.
The event is scheduled annually in Key Largo on the first weekend of December.
Winners
Open:
1) Kathy Kulkoski
2) Dave White
3) Dan Kulkoski
4) Jim Glanden
5) Stan Woodruff
6) Hollis Caffee
7) Bob Bergstedt
Women:
1) Kathy Kulkoski
2) Sharon Woodruff
3) Barb Short
Masters:
1) Jim Glanden
2) Stan Woodruff
3) Hollis Caffee
Youth:
1) Jason Soares