Wave National Championships
Key Largo, Florida
Photos by Steward Glegg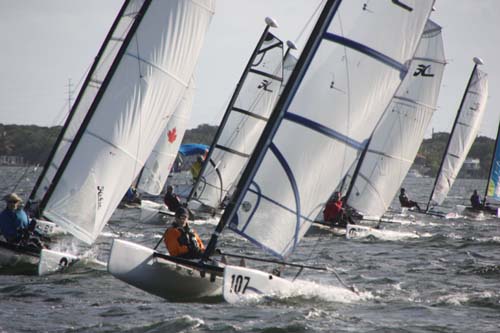 John Sherry (107) had a good start at the port end of the line
There has only been one triple winner of the Hobie Wave Nationals since its existence until this weekend. Patrick Green of Put-in-Bay, Ohio, sailed extremely consistent, and along with taking 6 bullets out of sixteen races, won the event by 32 points over the second place boat and became the second person to win it three times..
Put-in-Bay Yacht Club, located on a small island in western Lake Erie, had great representation for the regatta, winning five of the top six positions. The group has a very active sailing schedule in the summer time, and it shows.
The Fleet at PIBYC got in 78 series races alone this past summer, with a fleet consisting of three World Champs, four North American Champs, and two National Champs. Must be a hotbed of sailing.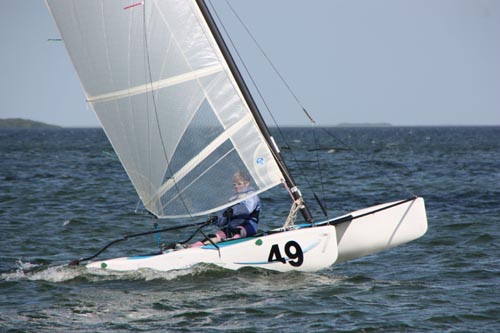 Inger Hansen of the Upper Keys Sailing Club took third place in the Womens Division
The Wave National Championships were hosted by the Upper Keys Sailing Club of Key Largo, Florida over the 3-day weekend of December 1-3, and sponsored by Catamaran Sailor Magazine (www.catsailor.com), OnLineMarineStore.com and Founders Park Watersports.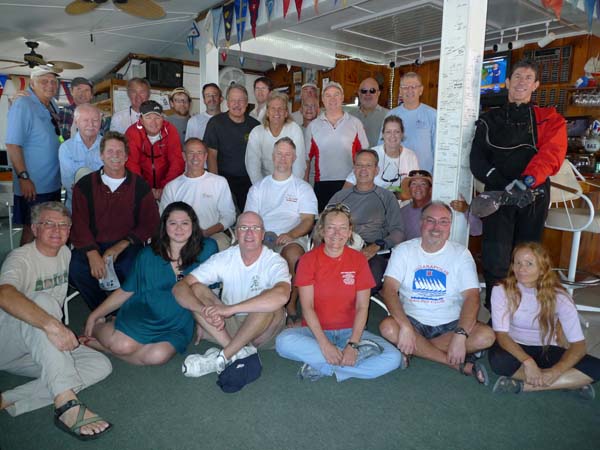 Group Shot before racing taken by John McKnight
Winds were 15-20 mph on Friday for the event, then jumped up to 22 mph on Saturday. Sunday eased off a bit, but still were gusting to around 20 mph. The Hobie Wave catamaran, however, loves heavy winds and the sailors were all in seventh heaven about the ideal conditions of heavy air and fairly flat seas in Buttonwood Sound.
The Wave is a roto-molded catamaran whose class has been growing rapidly in the United States and is considered one of the most active fleets in the country. The boat is 13 feet in length, has only one sail and is sailed by one person.
Local Key Largo favorites were Dave White and Leah White. Leah is a two-time past National Champion in the class, and husband Dave has finished second place several times. However, this year the wind was too much for Leah, as she is a very petite lady. After the first day Leah was in 3rd place and still in contention, but as the winds picked, her hopes for a third title diminished. She still managed to take seventh place overall and win first in the Women's Division.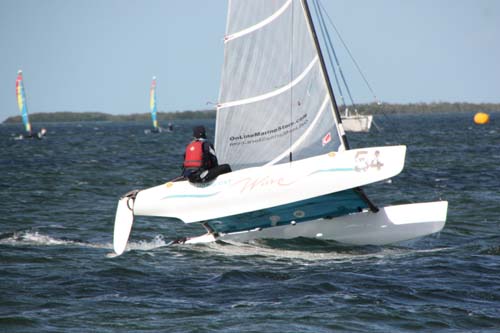 Leah White was in third place and in contention after the first day, but as the winds increased she was simply too overpowered to go for her third national title.

On the other hand, Dave had a horrible day of sailing on Friday and was in 10th place, but rallied by winning several races and always finishing in the top five, putting him in the trophies at 4th place overall.
Four Miami sailors joined in the fun and placed well: Mike Powers, John Sherry, John McKnight and Jack Wolfe finished in places 10-13 of the 30-boat fleet of racers.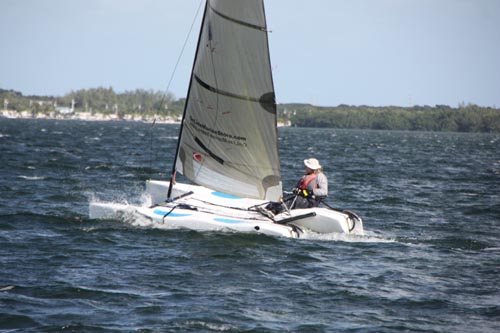 After a poor showing on the first day, Dave White made a big comeback the last two days, with very good finishes allowing to move into 4th place, just one point out of the third spot on the podium.
Barb Short of Key Largo, owner of Founders Park Watersports, Finished in second place of the Women's Division, and 17th place overall. And local sailor Inger Hansen won third place for the Women.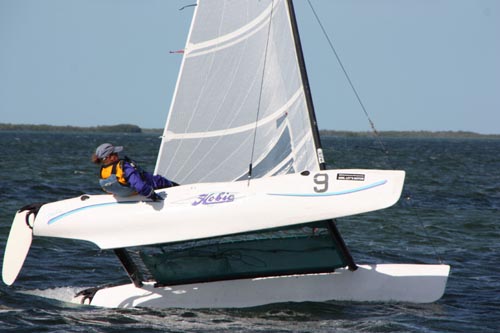 Barb Short, owner of Founders Park Watersports, took 2nd place in the Womens
This National Event has been held in Key Largo area on the first weekend of December for sixteen years now, bringing lots of sailors and their friends to this great sailing venue during the off season time for the Keys. The visitors always enjoy the great sailing in our warm and clear waters.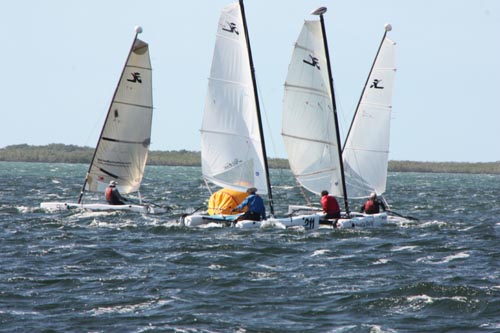 The reaching mark roundings got pretty hairy in the heavy air.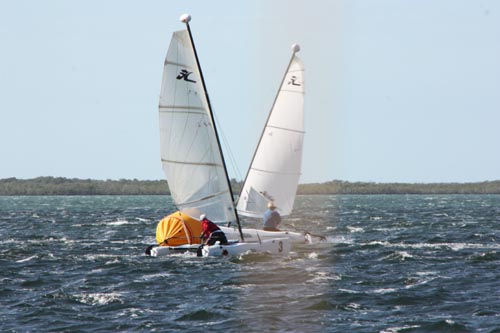 The Races
On the first day Patrick Green showed he was the guy to beat, taking three aces and a second out of the first day's five races, He also had a 9th which was his worst race of the entire regatta. Steve Abbey, also from Put-in-Bay, Ohio, was always right behind Green and finished the day in second spot, just ahead of Leah White of Key Largo, Florida. A Hobie Dealer from Pensacola Beach and past champion of this class, Kirk Newkirk, was in a tie for 4th place with Ray Matuszak of Put-in-Bay.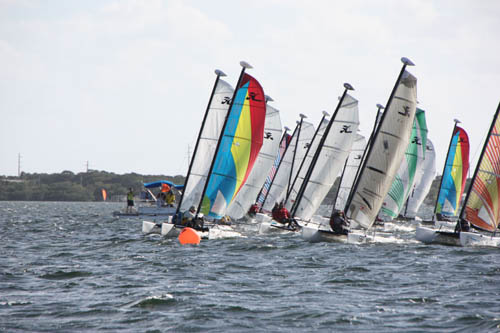 Winds on the second day piped up to a stead 22 mph and about a third of the fleet dropped out after a race or two. Green continued with his winning ways, never showing a flaw in his style, and Abbey again stay close behind. Matuszak moved into third place after the six races on Saturday, just two points ahead of Dave White.
On the third day the winds ebbed a bit to around 17 mph, but there was still plenty of action as the boats were flying around the course in record time. The Mark Boat Operator, Rick White said, "In the sixteen years I have been running this regatta, we never had a weather leg longer than .7 miles, and the boats were finishing around 30 minutes. This weekend the leg was set at 1.2 miles and they were finishing around that same time. I do believe the sailors have made this design even faster than it has been in the past."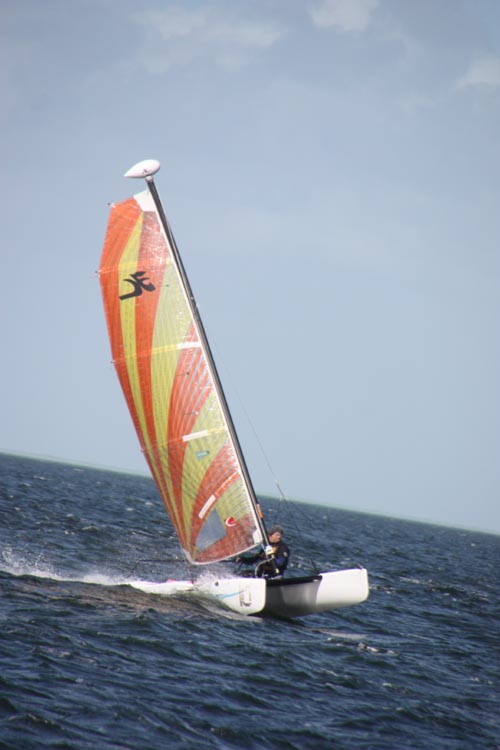 Green only won one of the last four races held on Sunday, but was always right amongst the top boats, winning the event by 32 points over the second place sailor. And then there was Abbey, right behind and capturing the second spot overall, his first major placement in the class.
Matuszak and Dave White were battling it out for that 3rd place spot. Matuszak got the lead in the last race, with Dave White right behind him all the way around the course. White just could not make the pass, and had to settle for 4th place, just one point behind the 3rd place trophy spot. Skip Kaub of Indianapolis, Indiana took fifth place on the podium.
Rounding out the top ten were (See full results below):
6. Doug Seib – Put-in-Bay, Ohio
7. Leah White - Key Largo, FL (1rst Place Womens)
8. Jim Glanden – Delaware (1rst Place Masters)
9. Mark Scarpelli – Put-in-Bay, Ohio (2nd Place Masters)
10. Mike Powers – Miami, FL (3rd Place Masters)
11. John Sherry
12. John McKnight
13. Jack Wolfe
14. Kirk Newkirk
15. Byron Frey
16. Fred Steinbaum
17. Barb Short (2nd Place Womens)
18. Ronald Wenger
19. Charles Smith (1rst Place Silver Fleet)
20. Inger Hansen (3rd Place Womens)
21. John Anderson
22. BillMullineaux
23. Mike Pederson
24. Marlyn Hahn
25. Elizabeth Burrows
26. Mark Smith
27. Rob Wall
28. Jim Signor
29. Bob Wall
30. Barbara Bernstein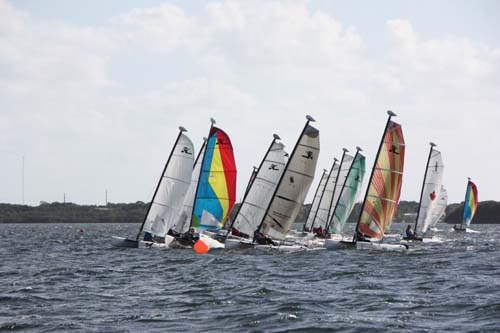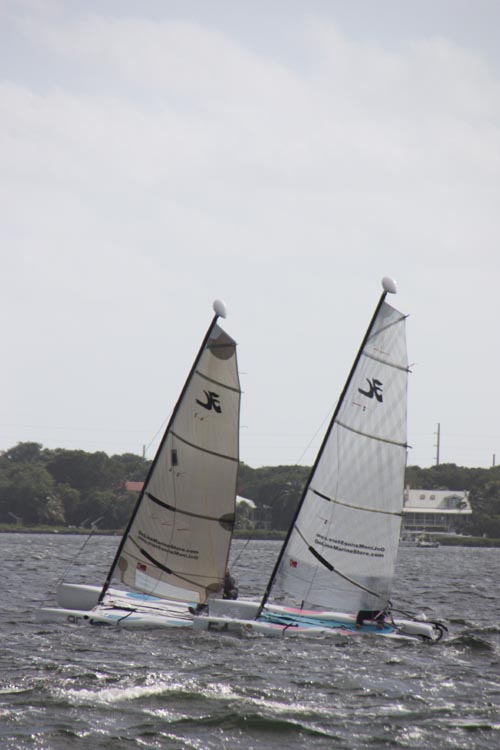 Results are final as of 18:10 on December 6, 2011
Overall
| Rank | BowNumber | Class | HelmName | R1 | R2 | R3 | R4 | R5 | R6 | R7 | R8 | R9 | R10 | R11 | R12 | R13 | R14 | R15 | Total | Nett |
| --- | --- | --- | --- | --- | --- | --- | --- | --- | --- | --- | --- | --- | --- | --- | --- | --- | --- | --- | --- | --- |
| 1st | 11 | HWAV | Patrick Green | 1.0 | 2.0 | 1.0 | (9.0) | 1.0 | 2.0 | 3.0 | 1.0 | 2.0 | 1.0 | 2.0 | 1.0 | 3.0 | 5.0 | 4.0 | 38.0 | 29.0 |
| 2nd | 711 | HWAV | Steve Abby | 5.0 | 1.0 | 2.0 | 3.0 | 4.0 | 5.0 | 4.0 | (11.0) | 8.0 | 4.0 | 8.0 | 2.0 | 2.0 | 7.0 | 6.0 | 72.0 | 61.0 |
| 3rd | 24 | HWAV | Ray Matuszak | 7.0 | 4.0 | 3.0 | 2.0 | 7.0 | 6.0 | 8.0 | 6.0 | (9.0) | 5.0 | 4.0 | 5.0 | 4.0 | 3.0 | 1.0 | 74.0 | 65.0 |
| 4th | 96 | HWAV | Dave White | 8.0 | 8.0 | (14.0) | 6.0 | 11.0 | 1.0 | 2.0 | 9.0 | 1.0 | 3.0 | 5.0 | 3.0 | 5.0 | 2.0 | 2.0 | 80.0 | 66.0 |
| 5th | 7 | HWAV | Skip Kaub | 2.0 | 3.0 | 8.0 | 11.0 | (15.0) | 12.0 | 6.0 | 2.0 | 11.0 | 2.0 | 3.0 | 7.0 | 1.0 | 1.0 | 3.0 | 87.0 | 72.0 |
| 6th | 3 | HWAV | Doug Seib | 4.0 | 10.0 | 9.0 | 5.0 | 9.0 | 7.0 | 5.0 | 4.0 | 6.5 | 7.0 | (11.0) | 6.0 | 8.0 | 8.0 | 8.0 | 107.5 | 96.5 |
| 7th | 54 | HWAV | Leah White | (14.0) | 5.0 | 4.0 | 1.0 | 2.0 | 9.0 | 9.0 | 10.0 | 10.0 | 13.0 | 10.0 | 9.0 | 11.0 | 11.0 | 10.0 | 128.0 | 114.0 |
| 8th | 211 | HWAV | Jim Gladen | 12.0 | 7.0 | 10.0 | (18.0) | 6.0 | 10.0 | 7.0 | 7.0 | 4.0 | 10.0 | 12.0 | 8.0 | 6.0 | 9.0 | 9.0 | 135.0 | 117.0 |
| 9th | 64 | HWAV | Mark Scarpelli | 10.0 | 11.0 | 6.0 | 8.0 | 8.0 | 11.0 | 10.0 | 5.0 | (31.0 OCS) | 6.0 | 9.0 | 12.0 | 9.0 | 6.0 | 7.0 | 149.0 | 118.0 |
| 10th | 117 | HWAV | Mike Powers | 9.0 | 14.0 | 7.0 | 7.0 | 14.0 | 3.0 | (31.0 DNC) | 13.0 | 5.0 | 12.0 | 6.0 | 11.0 | 12.0 | 4.0 | 5.0 | 153.0 | 122.0 |
| 11th | 107 | HWAV | John Sherry | 16.0 | 9.0 | 5.0 | 13.0 | 5.0 | 15.0 | (31.0 DNC) | 3.0 | 3.0 | 8.0 | 1.0 | 4.0 | 7.0 | 31.0 DNC | 31.0 DNC | 182.0 | 151.0 |
| 12th | 4 | HWAV | John McKnight | 11.0 | 16.0 | 18.0 | 17.0 | 12.0 | 8.0 | 12.0 | 12.0 | (31.0 OCS) | 11.0 | 7.0 | 10.0 | 10.0 | 12.0 | 12.0 | 199.0 | 168.0 |
| 13th | 21 | HWAV | Jack Wolfe | (31.0 DNC) | 12.0 | 16.0 | 12.0 | 13.0 | 14.0 | 14.0 | 15.0 | 13.0 | 14.0 | 13.0 | 15.0 | 14.0 | 13.0 | 11.0 | 220.0 | 189.0 |
| 14th | AL | HWAV | Kirk Newkirk | 3.0 | 6.0 | 15.0 | 4.0 | 3.0 | 4.0 | 1.0 | 8.0 | 6.5 | (31.0 DNC) | 31.0 DNC | 31.0 DNC | 31.0 DNC | 31.0 DNC | 31.0 DNC | 236.5 | 205.5 |
| 15th | 10 | HWAV | Byron Frey | 15.0 | 17.0 | 22.0 | 20.0 | 21.0 | 23.0 | 11.0 | 14.0 | 12.0 | 9.0 | (31.0 DNF) | 13.0 | 13.0 | 10.0 | 14.0 | 245.0 | 214.0 |
| 16th | 14 | HWAV | Fred Steinbaum | 20.0 | 19.0 | 17.0 | (21.0) | 18.0 | 13.0 | 15.0 | 16.0 | 16.0 | 16.0 | 15.0 | 14.0 | 15.0 | 15.0 | 13.0 | 243.0 | 222.0 |
| 17th | 9 | HWAV | Barb Short | 17.0 | 18.0 | 13.0 | 15.0 | 19.0 | 16.0 | 13.0 | 18.0 | 14.0 | 17.0 | 14.0 | 21.0 | (31.0 DNF) | 31.0 DNC | 31.0 DNC | 288.0 | 257.0 |
| 18th | 18 | HWAV | Ronald Wenger | (31.0 DNC) | 21.0 | 23.0 | 24.0 | 23.0 | 21.0 | 16.0 | 20.0 | 18.0 | 21.0 | 18.0 | 19.0 | 16.0 | 16.0 | 16.0 | 303.0 | 272.0 |
| 19th | 49 | HWAV | Inger Hansen | 19.0 | 20.0 | 11.0 | 16.0 | 20.0 | 17.0 | (31.0 DNC) | 17.0 | 15.0 | 15.0 | 16.0 | 18.0 | 31.0 DNF | 31.0 DNC | 31.0 DNC | 308.0 | 277.0 |
| 20th | 30 | HWAV | Jon Anderson | 24.0 | (31.0 DNF) | 25.0 | 25.0 | 25.0 | 19.0 | 19.0 | 31.0 DNC | 19.0 | 20.0 | 19.0 | 20.0 | 19.0 | 14.0 | 15.0 | 325.0 | 294.0 |
| 21st | 19 | HWAV | Charles Smith | 21.0 | (31.0 DNC) | 24.0 | 22.0 | 24.0 | 18.0 | 17.0 | 19.0 | 21.0 | 18.0 | 17.0 | 16.0 | 17.0 | 31.0 DNC | 31.0 DNC | 327.0 | 296.0 |
| 22nd | 35 | HWAV | Bill Mullineaux | 25.0 | 22.0 | 21.0 | 23.0 | 22.0 | 20.0 | 18.0 | 21.0 | 20.0 | 22.0 | (31.0 DNC) | 22.0 | 22.0 | 31.0 DNC | 31.0 DNC | 351.0 | 320.0 |
| 23rd | 44 | HWAV | Mike Pederson | 13.0 | 13.0 | 12.0 | 10.0 | 10.0 | (31.0 DNC) | 31.0 DNC | 31.0 DNC | 31.0 DNC | 31.0 DNC | 31.0 DNC | 31.0 DNC | 31.0 DNC | 31.0 DNC | 31.0 DNC | 368.0 | 337.0 |
| 24th | 22 | HWAV | Marlyn Hahn | 22.0 | (31.0 DNF) | 19.0 | 14.0 | 16.0 | 22.0 | 31.0 DNC | 31.0 DNC | 31.0 DNC | 31.0 DNC | 31.0 DNC | 17.0 | 18.0 | 31.0 DNC | 31.0 DNC | 376.0 | 345.0 |
| 25th | 12 | HWAV | Elizabeth Burrows | 23.0 | 24.0 | 26.0 | 26.0 | 26.0 | (31.0 DNC) | 31.0 DNC | 31.0 DNC | 31.0 DNC | 31.0 DNC | 31.0 DNC | 31.0 DNC | 20.0 | 17.0 | 17.0 | 396.0 | 365.0 |
| 26th | 47 | HWAV | Mark Smith | 18.0 | 15.0 | 20.0 | 19.0 | 17.0 | (31.0 DNC) | 31.0 DNC | 31.0 DNC | 31.0 DNC | 31.0 DNC | 31.0 DNC | 31.0 DNC | 31.0 DNC | 31.0 DNC | 31.0 DNC | 399.0 | 368.0 |
| 27th | 5 | HWAV | Rob Wall | (31.0 DNF) | 25.0 | 28.0 | 27.0 | 27.0 | 31.0 DNC | 31.0 DNC | 31.0 DNC | 17.0 | 19.0 | 31.0 DNC | 23.0 | 21.0 | 31.0 DNC | 31.0 DNC | 404.0 | 373.0 |
| 28th | 50 | HWAV | Jim Signor | 6.0 | (31.0 DNC) | 31.0 DNC | 31.0 DNC | 31.0 DNC | 31.0 DNC | 31.0 DNC | 31.0 DNC | 31.0 DNC | 31.0 DNC | 31.0 DNC | 31.0 DNC | 31.0 DNC | 31.0 DNC | 31.0 DNC | 440.0 | 409.0 |
| 29th | 6 | HWAV | Bob Wall | (31.0 DNC) | 23.0 | 27.0 | 31.0 DNC | 31.0 DNC | 31.0 DNC | 31.0 DNC | 31.0 DNC | 31.0 DNC | 31.0 DNC | 31.0 DNC | 31.0 DNC | 31.0 DNC | 31.0 DNC | 31.0 DNC | 453.0 | 422.0 |
| 30th | 56 | HWAV | Barbara Bernstein | (31.0 DNC) | 31.0 DNC | 31.0 DNC | 31.0 DNC | 31.0 DNC | 31.0 DNC | 31.0 DNC | 31.0 DNC | 31.0 DNC | 31.0 DNC | 31.0 DNC | 31.0 DNC | 31.0 DNC | 31.0 DNC | 31.0 DNC | 465.0 | 434.0 |