5th Annual Wave National Championships
Last Day's Report
[First Day's Report][Second Day's Report]
Garlick Walks Away in a Repeat Championship.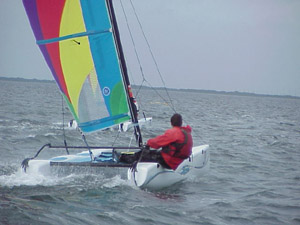 Paul Garlick Reaches to another victory and runs away with his second Wave National Championship.
Paul Garlick took three more aces, a second and a third to walk away with his second consecutive Wave National Championship -- no one has ever repeated as champ. Garlick finished a commanding 45 points ahead of the second place boat, Stan Woodruff.
The winds were piping all day with a steady 15 knots out of the east, northeast. The RC popped off races one right after the other, and got in six more races before 1PM making the regatta a 14-race event.
Stan Woodruff not only captured second spot in the Open Class, but also regained his status as Masters National Champ. Woodruff was always in the top group of boats in nearly every race, but never won a race. Jim Glanden had some great finishes but was dethroned as Masters Champ and settled for 2nd spot. Glanden finished 4th overall. Hollis Caffee took 3rd in the Masters and broke a tie with Dave White to finish 7th in the overall Open.

Hollis Caffee leads Rob Setili on a wet, wild and hot reach
Kathryn Garlick got sick of playing bride's maid instead of being the bride over the past few years. This year she dominated the Women's Fleet and easily won the Womens Division. She also finished 3rd place in the Open Class. Sharon Woodruff took second spot in the Womens followed by Pegi Villa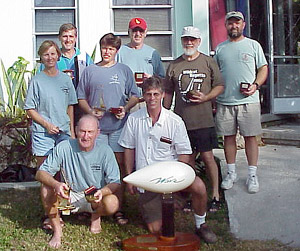 Winners from left to right: Sharon Woodruff, Rob Setili, Kathryn Garlick, Jim Glanden, Paul Garlick, Hollis Caffee and Bob Bergstedt.
Click Here for Nationals Results
National Series Champion is Stan Woodruff
For the Wave National Series Championships, based on the best five race results for the year, Stan Woodruff won easily after taking 2nd place in the Nationals (Nationals and North Americans count as two races). He was also the Masters Champ. Going into the Nationals Rick White was leading for the season, but was PRO for the Nationals. His failure to sail in the Nationals dropped White to 16th place overall.
In the Women's Division Pegi Villa practically had it in the bag, but retired from the last two races in the Nationals allowing Kathryn Garlick to win the title by only 7 points. Had Villa sailed the last two races she needed only to beat 4 other boats to win overall.
Click Here for Final National Series Standings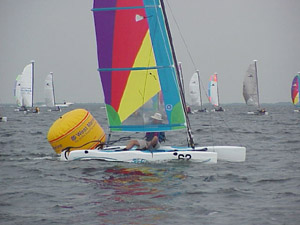 Juergen Mayr from Germany held the lead all through the race #4, but Paul Garlick Squeaked by for a last second win.
Paul Garlick Is Seemingly Running Away with the Regatta. Wife, Kathryn is Not Far Behind
The winds today were pretty darned good -- staying steadily around 15 mph most of the day. Paul Garlick rattled off four bullets in a row, then a 13th (Yes, even God can make mistakes) and another bullet to lead the regatta by 11 points over Stan Woodruff.
Woodruff has never had a bad race and continues to haunt Garlick. Meanwhile, Kathryn Garlick has slipped passed Dave White (son of Rick White) and into third spot by a couple of points.
Hollis Caffee is hanging tough and has moved past Jim Glanden (tied yesterday for first place) who has slipped to 6th overall.

The mark rounding were pretty crowded.

We had some great RC helpers. Three local ladies that never have sailed helped out and loved doing it. Carolyn on the left was in charge of the Class Flag and said, "I love having all that control of all those boats -- they can't start until I lower my flag!"
Defending Champ, Paul Garlick, is in a tie with Jim Glanden, defending Master Champ
An approaching cold front messed up the wind and the scheduled starting time had to be postponed for nearly two hours. Finally a light wind of around 5-8 filled and the Waves were able to get in two races.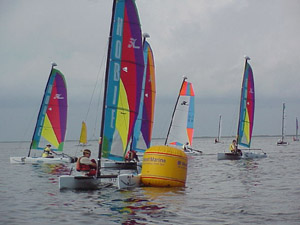 Paul Garlick hit the weather mark on the first race, fouled another boat while doing a circle, did another circle, and still worked his way back to 4th place
Rob Setili eked out a win over Stan Woodruff in the first race. Meanwhile, Paul Garlick had hit the weather mark and then fouled another boat while doing a circle. rumors had it that there was a whirlpool left behind after he got going again. Still he worked his way through the fleet and took a 4th place.
In the second race it was all Garlick, walking away from the fleet to an easy bullet. Jim Glanden just sailed steadily to a 3rd and 2nd place finish to tie with Garlick.
Winds tomorrow are expected to go back to the normal easterly direction and be around 15 mph.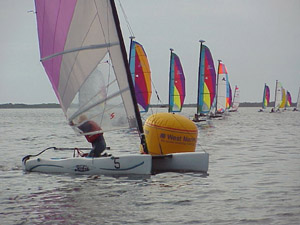 Stan Woodruff had a commanding lead here as he rounds the reaching mark, but Rob Setili eked out the victory.
Stay tuned here for more!