---
In The Forums
Easton & Burd Win Carlton Tucker Memorial at Tradewinds
The award is given to the winner of the biggest class at the Tradewinds Midwinter National Open Cat Championships held at the Islander Resosrt in the Florida Keys. There were cool temperatures and lighter winds for the weekend, rather than the normal 80 degrees and 10-15 mph Tradewinds. Six classes participated. For more Story and Pix, Click Here!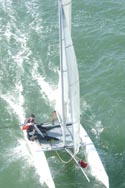 Roberts and Wier Take All the Marbles of 29th Annual Key Largo Steeplechase
The twenty ninth running of the Key Largo Steeplechase was blessed with temperatures in the lower 80s and winds averaging 15 mph and more. One could not ask for any more than that. One could ask for more boats to participate, as this was the lowest turnout since the very first time the event was run. The Supercat, by doing this, not only won the first to finish with the fastest time, but also won all the marbles by also taking first on Corrected time. Their overall time was 6 hours; 26 minutes; and 47 seconds.., not a bad time to complete a 110-mile sail. However, it did not set the recond. Several years back Robbie Daniel finished in 6 hours; thirteen minutes. For full story and pictures, Click here!

Kenny Pierce Takes the Wave Nationals in the Florida Keys
Miami sailor Kenny Pierce dominated a talent-loaded class of catamaran sailors from all over the USA in the 16th Annual Hobie Wave National Championships held at the Islander Resort in Islamorada held the first weekend in December.
Pierce is new to the class but found the groove to take five first place finishes of the thirteen races sailed, with his worst finish being a third – awesomely consistent racing. Pierce was pushed hard by two-time North American Champion, Tom Whitehurst of Pensacola Beach, Florida. For the Full Story and Pictures, Click Here!

Commodore Hazard Perry Defeats the British in the Battle of Lake Erie
The Battle of Lake Erie, sometimes called the Battle of Put-in-Bay, was fought on 10 September 1813, in Lake Erie off the coast of Ohio during the War of 1812. Nine vessels of the United States Navy defeated and captured six vessels of British Royal Navy. This ensured American control of the lake for the rest of the war, which in turn allowed the Americans to recover Detroit and win the Battle of the Thames to break the Indian confederation of Tecumseh. It was one of the biggest naval battles of the War of 1812.For some awesome pictures and the full story of the history of the Battle of Lake Erie, Click Here!

Rick White Wins IWCA North Coast Champs, and Jim Glanden Wins HCA
Both White and Glanden won by a lot of points, but the competition in the IWCA was fierce until the last day. There was a three-way tie for second place in the IWCA between Doug Seib, Jim Hildebrandt and Ray Matuszak.., and they broke the tie in that order. Glanden on the other hand had Jack Woehrle close, but still was comfortable in his win. For more Story and Pictures, Click Here!
There Was Great Competition in Nearly All of the Classes at 2013 Tradewinds
In winds that were normally less than what the Florida Keys usually musters up, the sailing was pretty awesome except for late on the second day. Which was OK, as it just gave everyone more time to party and Sunday afternoon. Youth sailors pretty much dominated the F16 and the F18 Classes. For more story and pictures, click here!

Moss/Casey Three-Peat and the "Karls" Win Steeplechase Overall
It was the 27th running of the Annual Key Largo Steeplechase and it lived up to its reputation -- tough downwind sailing in 15+ mph winds and choppy seas down the Hawk Channel on the Ocean Side, and picking and choosing the fastest route on the second day. Often the Intracoastal Waterway Channels are not the fastest way, rather blasting over sandbars, blowing through mangrove sprouts, scaring Egrets, and kicking up a mud rooster tails usually wins the war. For full story and pictures, click here!


Leah White, 2nd Sailor to Win Three Wave Nationals
White is only the second woman to ever win the Hobie Wave Nationals, and she has now done it three times, tying the record of Paul Garlick. At a new venue, the 15th year of the event was held at Islander Watersports at the Islander Resort Hotel on the Ocean Side of the Florida Keys. It was tight racing amongst the top three sailors in the fleet made up of many National and North American sailors. For more story and pictures, click here!
Sarasota Boys Win US Sailing Youth Championship, Sarah Newberry Wins US Sailing Selection.
Jeremy Herrin and Sam Armington of Sarasota, Florida took first place in the Juniors, and was 7th place overall in the class. Ben Brown and Luc Lisi of San Francisco were ten points behind and took 2nd place, and in the overall score were 9th. Joseph Bello and Shelby Brown of Ft Walton Beach took the final podium spot, and were 12th place overall.Sarah Newberry/Matthew Whitehead started Saturday off with a bang, nailing 3 bullets out of five races, and holding a one point lead over Junior Champ Taylor Reiss/Brianna Chu. Close behind these two teams was Mike Easton and McKenzie Wilson. Pease Glaser and John Williams were back in 4th place. For Full Story and Pictures, Click Here!

Moss and JC do a RePeat of the 27th Annual Key Largo Steeplechase
Brett Moss and John Casey once again teamed up on a Marstrom 20 to win all the honors, both line honors and handicap, of the 2011 and 27th Annual Key Largo Steeplechase Race for the second year in a row. They won the Olde Lawn Chair for first to finish, and the Rick White Perpetual Trophy for first on corrected time. The team was first to finish on both days, but were closely shadowed by Mike Krantz and Dave Lennard on a Nacra Carbon 20, as well as Mike Phillips and Kenny Pierce on another Marstrom 20.
At the awards there was a major foul up. In scoring the event, one step in using the Sailwave Software was forgotten. Consequently the results and awards were mostly handed out to the wrong sailors. All finishers did get the complementary bottle of champagne, so Rick and Mary got that part straight. Duh! How could you go wrong? The overall winners were Moss and Casey, with Phillip and Pierce taking second place on handicap, and Krantz/Lennard finishing in third. Just out of the podium was Dave and Bob Ingram, brothers who got back together after years of not sailing with each other. They took the fourth place spot, finishing just two minutes ahead of Jake Kohl and Frank Moore. For Full Story and Lots of Pictures, Click Here!

Patrick Green Wins Wave Nationals
There has only been one triple winner of the Hobie Wave Nationals since its existence until this weekend. Patrick Green of Put-in-Bay, Ohio, sailed extremely consistent, and along with taking 6 bullets out of sixteen races, won the event by 32 points over the second place boat and became the second person to win it three times..
Put-in-Bay Yacht Club, located on a small island in western Lake Erie, had great representation for the regatta, winning five of the top six positions. The group has a very active sailing schedule in the summer time, and it shows.
The Wave National Championships were hosted by the Upper Keys Sailing Club of Key Largo, Florida over the 3-day weekend of December 1-3, and sponsored by Catamaran Sailor Magazine (www.catsailor.com), OnLineMarineStore.com and Founders Park Watersports. For Story and Pictures, Click Here!
Tomko and Billings Take the Whole Enchilada
The fourth and final leg of the 2011 GT300, a short 40 nm from Surfside to Galveston, again saw race leaders John Tomko and Ian Billings on Team Ruff Rider dominate the F18 fleet, extending their lead and securing their position at the top of the podium in both the overall and F18 classes. The Nacra F20 Carbon monster, Team Zhik 1, actually beat them to the beach by over three minutes, but with the handicap factored in, Ruff Rider easily won the leg on corrected time. For Full Story and Pictures, Click Here

John Sherry Wins in a Tie Breaker at Woodruff Invitational
Competition was pretty fierce in this awesome Wave Class, particularly between John Sherry, Jeff Linton and Skip Kaub. In attendance three past National Champions, three World Champions, a couple of North American Champs and others that have been champs in other classes. You had to know this was going to be a tough regatta. On the second day the winds did a 180 shift and filled in nicely from the east. John Sherry nailed the first start and motored easily to be first around the weather mark. He never looked back, but had he looked back, he would have seen Skip Kaub and Jeff Linton nipping at his heels. For More Story and Pictures, Click Here!

Enrigue Figueroa Wins another Hobie 16 Championship at Hobie Midwinters East and Jack Woehrle Take the Victory for the Waves
In the Hobie 16s, after the first day for first place there was tie with 4 points each between the two Puerto Rican Teams – The Streakin Rican, Enrigue Figueroa and Tito Aponte on the one hand, and on the other, Francisco Figueroa and Jolliam Berrios. Tom and Susan Korzeniewski were hanging in 3rd place with 12 point, just one point ahead of US Pan Am team of Greg Thomas and John Williams. Tied for fifth were Ken Hilk/Tina Pastoor and Bill Jeffers/Diane Bisesi. The Wave Class was being dominated by Leah White, two-time Wave National Open Champ and North American Champ taking two bullet and second. But, she decided not to race the 4th race on Saturday. For More Stories and Pictures, Click Here

Charlotte Harbor a Great Success
With a field full of champions past, present and future, the 2011 Charlotte Harbor Regatta wrapped up Sunday with a frantic scramble for the remaining undecided titles. With 84 boats in 11 classes, the Charlotte Harbor Regatta became the largest in the harbor's history.
Port Charlotte Beach Park was a spectacle of multicolored sails each morning and afternoon, with 34 boats being rigged and launched, then retrieved by the nomadic band of high-level racers, such as Hobie 16 superstar Greg Raybon, who took 3rd in the Hobie 17 World Championships and former North American Hobie 16 champions Paul and Mary Ann Hess of Santa Clara, California. Paul Garlick, a multiple national champion in the Wave class and his equally accomplished wife, Kathryn, set up shop on Charlotte Harbor in their 60-foot Etincelle, Cool Cat 1, before embarking on a cruise to the Caribbean for the 2011 St. Maartin Heineken Regatta in March. National, North American and World Champ, Rick White also showed up for the event. Future superstar 18-year-old Taylor Reiss showed why he is getting so much buzz, sailing to a third-place in the F18 class behind three-time North American champion John Casey and multiple national and world champ Robbie Daniels of Red Gear Racing.For More Story and Pictures, Click Here!

Perfect Winds, Flat Seas and Awesome Sailors at Tradewinds
Over eighty high-speed, high-tech catamaran sailboats came from twenty two states, and from Canada, Brazil, Italy and Puerto Rico, for the 2011Tradeswinds Midwinter Open Cat National Championships. The event was held off the beach of Founders Park, and was hosted by Founders Park Watersports on the Bayside of the Islands. The event was Friday through Sunday January 14-16. There were six different classes of boats, with the F16 and F18 Classes each featuring their Class Midwinter National Championships. For story and pictures, click here

Brett Moss and John Casey Take All the Marbles in a Slow Key Largo Steeplechase
The 26th Annual Key Largo Steeplechase was held in Key Largo December 11-12 with 17 teams of catamaran sailboats from around North America competing. What is normally an action-packed, hull-flying contest, the weekend was cursed with light air. On the first day some of the later boats were on the water for over fourteen hours. The race is a 110-mile trek around the islands with the first leg usually a relative drag race down the ocean side of the islands. The second leg up the Florida Bay side requires a lot of navigation skills and water reading for the sailors. Brett Moss and John Casey of Ft. Lauderdale were very consistent on their Marstrom 20 and took top honors both on first to finish and on handicap. After 110-miles of grueling sailing in winds ranging f rom 2 to 10 mph, the managed to keep it going the whole time.For more story, pictures and results, click here!

Leah White Dominates !3th Annual Wave Nationals
Taking nine aces out of fourteen races, White is the second woman to ever win this prestigeous event, and the first to ever win it twice. She had eked out a win in 2008 over favorite Patrick Green at that time. She was shocked at the awards when a group of sailors dumped the remains of the beer cooler over her head, much like the Gator Aid dowsing of winning football coaches. For more story and pictures, click here!
Skip Kaub & Mike Fahle Win the Big Ones
There are two great Perpetual Trophies for the Sandusky to Put in Bay, OH Steeplechase -- The Bill Wells Sailing Spirit Trophy to the best boat on corrected time and the Rick White Perpetual Trophy for first to finish. It is a 21-mile feeder race for the I-YA Bay Week Regatta, where in the past as many as 454 boats vied for these great trophies. This year an ARC22 took both trophies. For more Story and Pictures, Click Here.
Middle Bass Challenge Race Report
It was a first of a kind. You had your option to sail clockwise or counterclockwise around Middle Bass, and then the opposite way around North Bass. The overall course would be a figure 8. Go Figure. Very interesting. Check out the race, the sailors, the story, the pictures by clicking here!
Team Ruff Rider Wins the Great Texas Race
The morning was kicked off with an 8 AM Skippers Meeting and a 9 AM start to the second annual Surfside to Galveston Dash. This year there were 23 Dash teams, so the first line of 11 boats left the beach at 9 AM and the second line of 12 boats left the beach two minutes later. Pat2 got a slower start, leaving about 15 minutes after the last Dash boat left the beach. The winds and surf were light, but getting out was not a problem and all 23 boats were on their way to East Beach in Galveston. For More Story and Pictures, Click Here!

Dave White Ekes Out Victory at Woodruff Invitational on Tampa Bay.
Opening their beautiful home to a bunch of roudy Wave Sailors, Stan and Sharon Woodruff also managed to have 17 of the top Wave competitors in the country converge on their residence on the bay. It was awesome competition with only four points between first and fifth place overall. For more Story and Pictures, Click Here!
Mike Montague Wins H16 and Rick White Takes Waves at Charlotte Harbor Regatta
Mike Montague flew in from the West Coast to handily win the Hobie 16 Class at the Charlotte Harbor Regatta at Punta Gorda, Florida. Rick White also dominated the Wave Class with only two bullets, but very solid finishes in every race. For more Story and Pictures, Click Here!

Great Winds for Three Days in a Row, and Warm
The new format for the Tradewinds Midwinter National Cat Championships worked extremely well. It was changed to a 3-day event and had separate courses for the Spinnaker Boats and the Non-Spinnaker Boats. Winds seldom dropped below 15 mph and only a few gusts over 20 mph, and all in releatively flat water -- absolutely perfect conditions for catamaran sailing. For more story and great pictures, click here!

Woehrle Wins North Americans
In his debute to the Wave Class, newcomer Jack Woehrle of Gainsville, Florida showed he had the consistancy to take all the marbles. It all came down to the last few races, but he nipped out past NA Champ, Rick White, by only a few points. Interestingly,the competition was absolutely fierce. You could not get closer racing. Just look at the number of bullets and by whom. Six different boats took a first place finish: Woehrle had 5 aces (three in a row), Rick White had 4 aces (three in a row), Stan Woodruff had 4 aces, 4. Mark Scarpelli had 2 aces, Sharon Woodruff had an ace, Nelson Wright had an ace, Scott Hubel just narrowly missed being the 7th boat with an ace by a few inches. For more Story and Pictures, Click Here

Perfect Conditions as Lohmayer and Sonnenklar Win the 25th Annual Key Largo Steeplechase
This 110-mile mini-distance event has been ongoing for 25 years and has attracted some of the greatest sailors of catamarans in the world. It was no different this year, as many veterans and winners of the Tybee 500, Worrell 1000 and Great Texas were there battling it out. Two-time Olympic Silver Medalist, Randy Smyth, showed up with his new radical-designed trimaran. For full story and pictures, click here!

Jack Woehrle Wins Wave Nationals
After many years off from the sailing community, one-time Tornado ace from the 70's era returned to guess what? A Wave! After sailing in the North Coast Championship in Put-in-Bay, Ohio this past August, he said he was hooked. Guess so! He just won the Wave North Americans a few weeks ago, and now he has won the Wave Nationals. For more story and pictures, click here!
Bryan and Christina Perrin Capture Shark Nationals 4th Time in a Row
A warm front rolled through the area on the last day of sailing, bringing southerly winds of 15-20 mph winds with a few gusts to 24 mph. This was when the two teenage boys, Eric Perrin and Patrick Turbett, got it all together, taking first in both races and moving them up into second place overall in the standings.
Meanwhile Pattenaude/Couch broke their boom while jibing at the reaching mark and had to limp back to port. That dropped them out of the money to 6th place overall. Braddon and Bennett broke a centerboard on the way to the race course, but held on just enough to still hold on to 3rd place overall.For more story and pictures, click here!

Mike Phillips RePeats as Steeplechase Champ
Mike Phillips of Miami teamed up with All Star crew, Kenny Pierce, and captured the title for the second year in a row, winning the infamous Old Lawne Chair (Best Time) and the Rick White Perpetual Trophy (Best Time Corrected). They were the first across the finish line on both days of the 110-mile trek around the Upper Florida Keys. For more story, results and pictures, Click Here!

It was White over Green for the Wave Nationals
Leah White of Key Largo was the second woman to ever win the Wave National Championships. The first to do so was Kathy Kulkoski of New Jersey. White entered the last day of sailing 12 points behind Patrick Green of Put-in-Bay, Ohio. Green is a past National Champion, this year's North American Champion and has won every regatta he entered this year. But White rattled off a bunch of bullets while Green got stuck in traffic. It was a real nail biter. For full story, Results and pictures, click Here!